QandA with Kelly Hines
I sat down with the Cy Woods Varsity Soccer goalie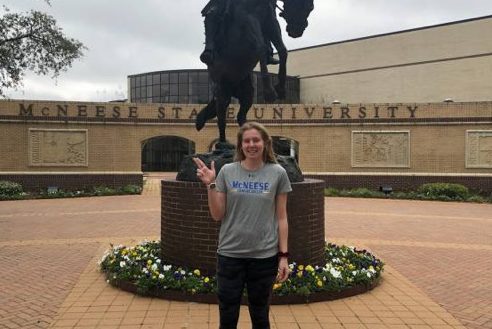 Q: How do you feel about this soccer season?
A:  I love this soccer season because it's been really fun. I love this team. They are so much fun to be around, and we've been winning. It's been a great feeling.
Q: What do you think the team strengths are?
A: Offensively, we are so good, and I think that we are just so bonded that we play really well with each other.
Q: How did you become captain, and what do you like about it?
A: I became captain because I am a goalkeeper, so I yell a lot and I think people already looked up to me to be a leader. I love being captain. I love wearing the armband. I think it's so cool-looking.
Q: What does being part of the team mean to you?
A: Soccer is literally everything to me. Being part of this team is so much fun. It's definitely a team of my sisters it's so great.
Q: How long have you been playing soccer?
A: I've played soccer ever since second grade when I was around seven. I played soccer because my mom used to play soccer, so I started it and kept going because I loved it.
Q: Why do you think the team has been undefeated? What do you think is the key to the team's success?
A: This year, we worked really hard and after last year going to third round in playoffs, we had more confidence in ourselves to make it to the state tournament. I think we believe in ourselves and have confidence. We also all like each other and we are all on the same mindset.
Q: What is your favorite memory of soccer?
A: Definitely getting to the third round of playoffs last year. I can't even describe how happy I was. I was crying.
Q: What do you feel is your role/responsibility as team captain?
A: I feel like I always have to be uplifting. Being in charge on the field, I have to be strong and confident. I can't be nervous or scared because I have to lead the team in the right direction.
Q: How has playing soccer helped you in school?
A: It's taught me to not let your past mess you up. As the goalkeeper, I give up goals, and I bring myself down. I have to keep moving forward. It happens. If I fail a test I'm like "I can still get an A."
Q: What was the main thing that prepared you to step in this position?
A: Coach Trocquet helped a lot. She's always there for me, and she believes in me. She gave me that confidence, and goalkeeping in general takes a lot out of you.
Q: Do you plan on playing college soccer? If so, where?
A: Yes. I am playing college soccer at McNeese State University. It's a D1 program in Louisiana.