College Football Playoffs Outlook
The advantages and disadvantages for each playoff team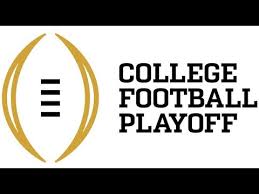 ALABAMA:
After a dominating regular season, and going undefeated, they finished being the number one seed in the college football playoffs. With Heisman runner up Tua Tagovailoa leading the Crimson Tide, they been blowing everybody out, averaging 47.9 points and 527.6 yards per game. They are the 2nd ranked offense in the country, and also have the 8th best defense in the nation. Even though they are clearly the best team so far this year, people are wondering how good they will going against the high-power offense of Oklahoma – considering how they played against Georgia.
CLEMSON:
After finishing the year undefeated, Clemson finished being the number two seed in the college football playoffs. With Freshman quarterback Trevor Lawrence and duo-threat running back Travis Etienne leading the back field, they are ranked the fourth best offense in the nation. However, the real reason to their success has been there amazing defense. With the two best Defensive Tackles in the country in, Christian Wilkins and Dexter Lawrence, leading the Clemson defense who have been holding their opponents to 258 yards per game, and 13.69 points per game. Even though Clemson is the most complete team in the league, people are wondering how good this team is considering that they have not had a challenge this year, play in in a weak conference.
NOTRE DAME:
After being one of the biggest surprising teams of the year the Fighting Irish finish the season going undefeated, the irish are the number three seed in the college football playoffs. With Junior QB leading the Irish offense they are averaging 456 yards per a game, they are the only team on the playoffs that don't have a super star on the offensive side, but what they lack on offense they make i up on defense. The Irish are holding their opponents to 17.25 points per game, and only 330 yards per game. Even with their record people are doubtful of their team due to their non explosive offense and the fact that they did not have a conference championship game.
OKLAHOMA:
After losing Heisman Winner Baker Mayfield last year, Oklahoma replaced him with a new Heisman winner in dual-threat quarterback Kyler Murray who has 4,926 total yards and 51 touchdowns. After going 12-1, the Sooners are the fourth seed in the college football playoffs. With Kyler Murray and Marquise "Hollywood" Brown leading the backfield, the Sooners are the number one ranked offense in the nation, averaging 578 yards per game and 49.5 points per game. Even with this explosive offense people think the Sooners will be out the first round of the playoffs due to their horrific defense who have gave up 448 yards per game and 32.28 points per game.
Leave a Comment