An overview of the UEFA Champions League Draw
An overview of what may become an exciting year for European Soccer.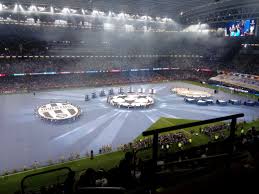 This past Thursday, UEFA held their annual UEFA Champions League draw. This draw determines which teams play who in the group stage, with the top two advancing to the knockout rounds while the third-placed team qualifies for the knockout stage of the UEFA Europa League. While fans were hoping for an easy group for their respective teams, some weren't so lucky. So, here are the groups:
Group A : PSG, Real Madrid, Club Brugge, Galatastaray
Group B: Bayern Munchen, Tottenham Hotspur, Olympicos, Cervena zvezda
Group C: Manchester City, Shakhtar Donetsk, Dinamo Zagreb, Atalanta
Group D: Juventus, Atletico Madrid, Bayer 04 Leverkusen, Lokomotiv Moskova
Group E: Liverpool, Napoli, RB Salzburg, Genk
Group F: Barcelona, Borussia Dortmund, Inter Milan, Slavia Praha
Group G: Zenit, Benfica, Lyon, RB Leipzig
Group H: Chelsea, Ajax, Valencia, LOSC
By looking at the draw, you can already tell that Group F is the group of death. With three big contenders, expect the teams to fight to the death for the two group spots, with their point count being very close. 
For the rest of the groups, the big teams seemed to get lucky, with PSG and Real Madrid being favorites in Group A, Bayern and Tottenham in Group B, Man City and Shaktar in Group C, Juventus and Atletico in Group D, the defending European champions Liverpool and Napoli in Group E, Lyon and Leipzig in Group G, and Chelsea and surprise semi-finalists from last year, Ajax.
From the conclusion of the draw, it will be one of the most exciting years in the history of the Champions League, setting up for a thriller knockout stage. But since this is the Champions League, anything can happen.
Leave a Comment