Gotta Catch 'Em All
Two big announcements about Pokémon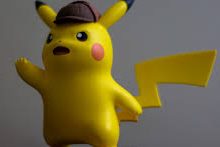 The last week has been a big one for the Pokémon franchise. The franchise has been a powerhouse for Nintendo, the studio behind the games, for more than 20 years. It has also branched into an anime spanning more than 20 seasons, several movies, a trading card game and the insanely popular app, "Pokémon GO." In the past week, two huge developments have been announced for the franchise, one involving the newest movie and one involving two new games.
On February 26, the second trailer for the movie "Pokémon Detective Pikachu" was released onto YouTube. The movie will be the first live-action Pokémon movie to be released. The movie, based on the Pokémon spinoff game "Detective Pikachu," is about a young man named Tim Goodman who teams up with a talking Pikachu (played by the one and only Ryan Reynolds) to unravel the mystery behind his father's disappearance. The trailers and therefore the movie will give viewers a look at what live-action Pokémon would look like, and they are highly realistic, to say the least. The movie's release date is set for May 10.
On February 27, Nintendo released a teaser trailer for two new games, "Pokémon Sword" and "Pokémon Shield." These games, set to be released for the Nintendo Switch in late 2019, will be the start of the eighth generation of Pokémon. They take place in the brand new Galar region and will return to traditional, gym-based gameplay unlike the seventh-generation games, "Pokémon Sun" and "Pokémon Moon." The starter Pokémon for this generation were also announced, and the Internet is already full of fanart of them.
Ever since the release of "Pokémon GO" in 2016, the popularity of the franchise in the mainstream has grown dramatically, allowing a live-action flick like "Detective Pikachu" to hit the big screen, and its ability to stay popular for kids and kids-at-heart for 20 years has allowed it to release another pair of games and another generation of creatures for the "Genwunners" to make fun of. This franchise is still going strong, and their recent announcements are proof of that.