Teacher Walkouts Cancel School Progress
Hang on for a minute...we're trying to find some more stories you might like.
Low paid teachers protest their wages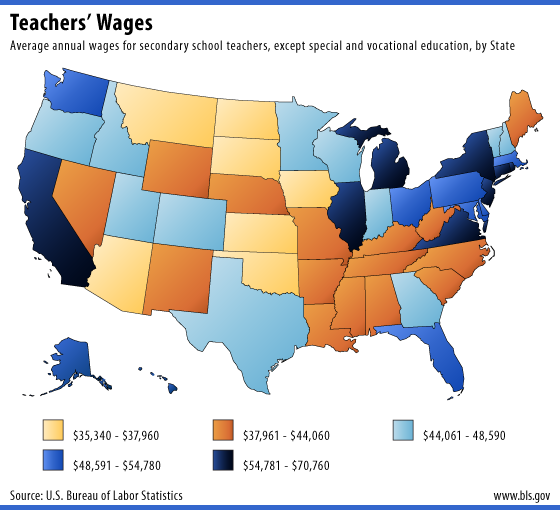 From February 22 to March 6, West Virginia Teachers held a nine-day protest over their low wages by not going to school.  This resulted in classes being canceled. A wage increase had been voted down by the state Senate beforehand, but on March 6th,  legislature turned in their favor. Teachers and other state employers received a pay raise of 5%, and then several other protests sprang up across the nation. In 2016, Virginia teachers earned $45,622 as their average salary according to thee National Education Association. The highest paying state for teachers was New York, paying $79,152 in 2016.
After some protesting in Oklahoma, the Oklahoma governor approved a pay raise of $1,600 to teachers, but unsatisfied, teachers will carry out a similar protest Monday in Oklahoma. Some schools in cities such as Edmond will not be in progress Monday as teachers protest their wages. In 2016, their average salary was $45,276.
Early last week, many Arizona teachers were also protesting low wages, but not by striking. Many are asking for a 20% raise in their wages and increased funding for their classrooms. The highest of these three states, Arizona teachers earned $47,218  in 2016.
Last Friday, hundreds of Kentucky teachers went to protest a change to their pensions at the Kentucky governor's office, causing approximately 24 districts to close that day. The state passed legislature the day before that changed teacher pensions to a 401(k)-style pension, in which teachers take part of their paycheck before taxes are taken out, but restrictions are put on how sick days alter their retirement.
Teacher unions have several demands that will prevent future out of school protests.  The Kentucky Education Association wants a reliable pension plan from their state and the Oklahoma Education Association is demanding increased pay for all state employees and increased health care funding.

About the Writer
AbigailH, Staff Reporter
I am a senior and staff reporter for the Crimson Connection. I enjoy creative writing, photography and playing golf. I spend most of my time focusing on...