JustinP, Online Editor

September 9, 2019
Week 1 in the NFL is now officially wrapped up a there is a lot to talk about. Some things that happened were predicted, others were extraordinary, and others were just mind boggling.  Most notable news from all the action in week one: Baltimore Ravens: Lamar Jackson began his sophomore se...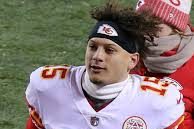 JustinP, Staff Reporter

November 4, 2018
This NFL season has being nothing short of fantastic. Young stars are emerging such as Patrick Mahomes and Baker Mayfield. Also veterans superstars who always makes games interesting like Aaron Rodgers and Tom Brady. But for this 2018 season there is one player in particular that has caught the eyes of eve...