Take a Bite into the Big Apple
The reasons why New York is the next hot spot for NBA free agents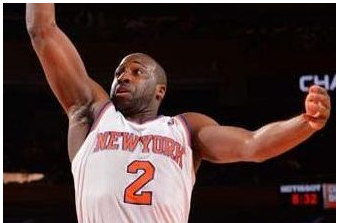 As the NBA 2019 playoffs approach,so does the 2019 NBA off season. And with that creates speculation of where the top NBA free agents will take their talents to. Last season, the hot spot for free agents was to Los Angeles where the Lakers call home. However, this off season may have a different story. With top free agents like forward Kevin Durant, guard Kyrie Irving and guard Kemba Walker being available to them and them having a ton of cap space for two max contracts, they may lure one or possibly two starts to help re energize their franchise.
Another big reason people should be investing in the Knicks, is that the Knicks have the worst record in the NBA right now, which means they have the best odds at grabbing the number one overall pick and using it to draft the phenomenal forward Zion Williamson. The Duke prospect has had so much hype going into college, similar to when Los Angeles Laker forward LeBron James got drafted into the NBA. And now that Williamson is near the end of the NCAA basketball season, next up is the NBA draft where he is projected to go number one in all ESPN and NBA draft predictions.
Even with tons of cap space and a certain high selection spot in the draft, the Knicks still have other very intriguing aspects.
For example, the city of New York. New York city brings a lot of attention and publicity to itself, and any player who is wanting to make an name for themselves or a statement to people, may look to New York. Playing Madison Square Garden is a huge opportunity, it has great fans and a lot Also with new head coach David Fizdale, who is very respected among the experts and teams around the league, many NBA athletes would like to learn from the respectable coach.
With all these accessories and attractions that can bring star NBA athletes to the Big Apple, people should watch out for the New York basketball team to break out of its slump and become a dominant force in the NBA.
About the Contributor
JustinP, Co-Online Editor
Justin is currently a junior at Cy Woods. He is also the current Online Editor for the staff and is currently in his second year on the newspaper team....