Netflix's Newest Haunt
'Chilling Adventures of Sabrina' provides a dark alternative to the well-known sitcom- perfect for the fall season.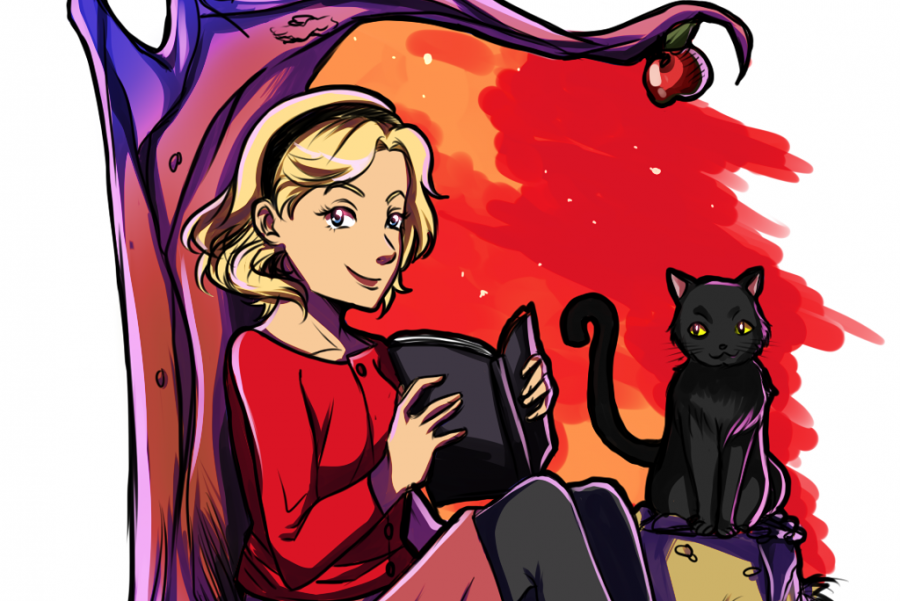 You may recognize the town, Greendale, from the Sabrina The Teenage Witch Archie Comics, or the beloved 90's sitcom of the same name. However, this new Greendale in Netflix's spin-off titled the 'Chilling Adventures of Sabrina' (CAOS) heads in a much more twisted direction, garnering rave reviews from audiences of all ages.
Sabrina, the half witch/ half mortal, played by 18-year-old Kiernan Shipley, is a young 15-year-old girl with an important decision to face on her upcoming 16th birthday. She must decide between the path of the dark knight, or full mortal being, no powers for the rest of her life.
The Netflix show of 10 one-hour episodes, released on October 27th, was set to place its eeriness hand in hand with the time of Halloween, which it did perfectly. It was rated 90 % on the Rotten Tomatoes Tomatometer, 7.9/10, and 95 % of Google Users liked the show.
Each actor resembles the classic ones with their own unique and mysterious qualities. From the very first moment of the show with the dark, comic sketch intro, to the last moment of darkness, CAOS mixes the perfect amount of dark humor and sadistic nature. The setting seems to have a sort of misty air that hangs over it at all times, providing the audience with constant suspense and wonder.
Many teenagers have expressed strong feelings towards this show already, having dressed up as their favorite characters from it for Halloween, and becoming inspired from its feminist punches and patriarchy criticisms.  Plus, there are some familiar faces in the show, such as Ross Lynch from Disney Channel's Austin and Ally, as well as a cameo appearance from the fan-favorite show of the same creator: Riverdale. But that doesn't stop adults from getting into this magical, supernatural show.
The show incorporates some of the staple elements from the sitcom such as Sabrina's black cat- Salem. But it adds a timeless element to it now, setting the series in no specific era, but carrying a vintage vibe throughout each episode and character.
With season 2 and a holiday special approaching, CAOS has promising expectations and many fan theories already circling the internet. Whether you're looking for a new show to binge, or want some more spooky fall entertainment, Chilling Adventures Of Sabrina has something for everyone. It's mix of Harry Potter, Riverdale, classic horror cults, and 80's teen flicks. It will leave you craving more at every second.
Leave a Comment