Finishing Strong
Lady Wildcats soccer team falls to Cy Ranch 2-1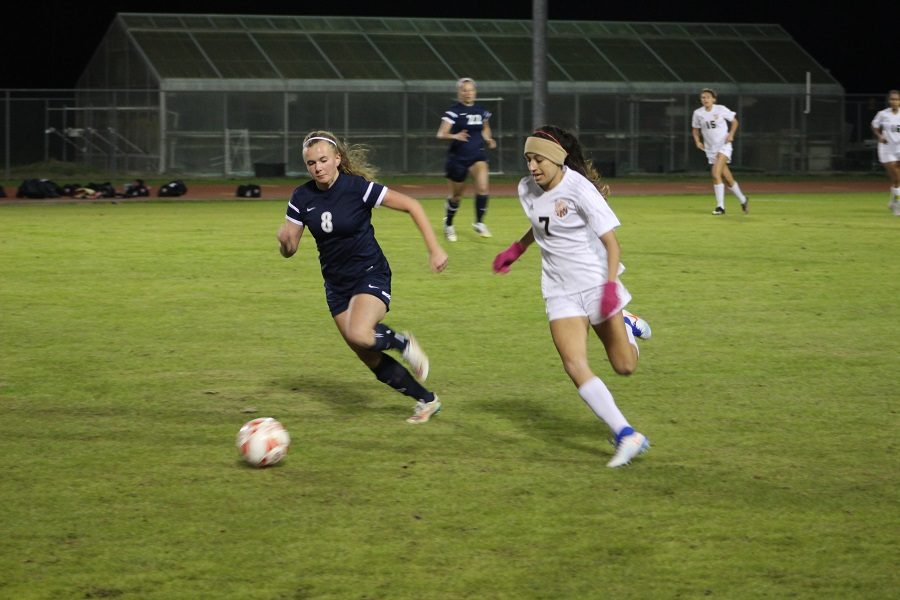 BillyS, Online Editor
January 27, 2017
It's a chilly January night and the Lady Wildcats are fighting for their lives. On the pitch, Senior Megan Doyle commands her team and barks orders in a desperate attempt to find an equalizer. In just a two minute period late in the game, the Wildcats have taken four shots on target, but none of them have found the back of the net. The Lady Wildcat soccer team falls 2-1 to a vicious Cy Ranch team.
In the first half it was Doyle who headed a high pass and danced around a defender to find herself in front of the goal. She made the most of her opportunity and recorded the only Wildcat goal of the night; and despite excellent play from Woods' keeper Kelly Hines, the Mustangs scored twice later on in the first half.
A penalty kick for the Mustangs on a questionable call proved to be the game winner for the Mustangs but the Wildcats battled hard and spent most of the second half in all out attack.
Junior Kaiden Schwenke found herself with the ball in the middle of the field much of the game and set up opportunities but the team overall did a poor job finishing, an unusual occurrence this season for them. The defense played solid for the most part with defender Allie Fischler and Lexi Fowler recording numerous interceptions but it just wasn't enough for the victory.
The Wildcats are tied for first place in 17-6A with the Cy Falls Golden Eagles after tonights loss, and will play their next match against Langham Creek at Cy Woods on February 3.