WoodsVLanghamCreek Game Grades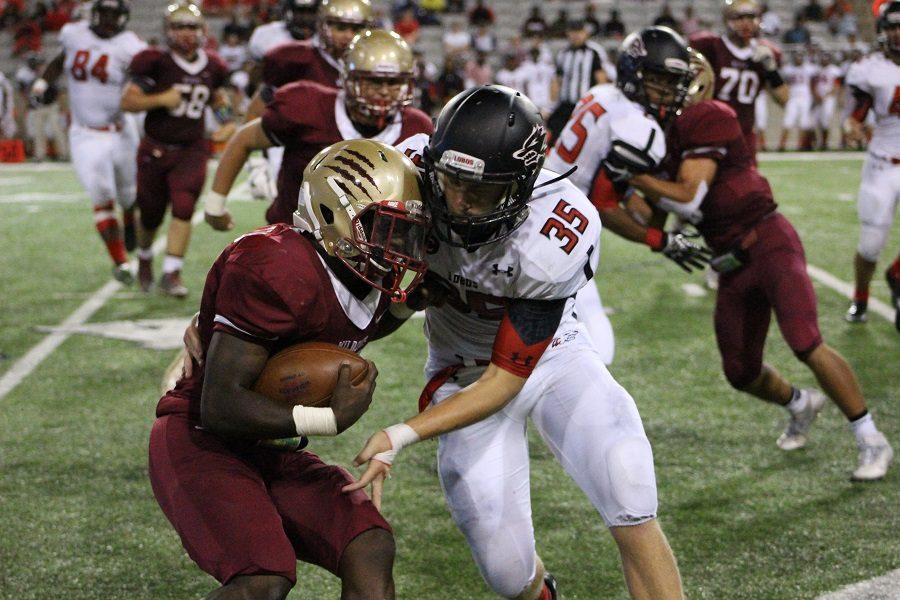 JordanM, Editor-in-Chief
October 3, 2016
On Thursday night, the Wildcats fell to the Langham Creek Lobos 62-35 at Cy Fair FCU stadium. A recap of this game can be found here, and below I will be reviewing how each positional group played.

Quarterbacks: D
The quarterbacks could not seem to stop themselves from throwing completions to those in the wrong jerseys tonight. Senior Brighton Gullickson started on the Wildcats opening drive, leading them to a three-and-out that got the game off to a disappointing start. Kainer eventually was able to do what Gullickson could not and bring the Wildcats down the field, but Gullickson came back in near the end of the first quarter- and summarily threw an interception, starting the plague of turnovers that would continue throughout the game. Even once Kainer was in, he could not seem to get his passing game up to par- being very obvious with his chosen receivers and allowing for three interceptions, two of them being pick sixes, and not to mention fumbling in the fourth quarter that sapped the minimal Wildcat momentum left in the stadium. With a completion rate barely above half, Kainer and Gullickson must learn to complete passes more often- but only in the hands of their own team.
Runningbacks: C-
The running backs only gained 120 yards during this game, even with a key component of this group returning to the field. Star running back CJ Jones started Thursday night, but did not live up to the hype that surrounds him, getting less than 100 rushing yards over 11 attempts. Barrientez also put up an underwhelming performance, with kicker Luis Reyes gaining more rush yardage than him on trick plays. As with multiple other positional groups on this team, this group needs to focus on week-to-week consistency.
Receivers: C+
Working Barrientez in the backfield as a receiver was yet again a popular choice for the Wildcat offense, with him averaging 8.4 yards/catch with seven receptions. Targeted receivers were plentiful in number like in last week's game, with five receivers gaining at least 25 yards each. However, these receivers did not follow through after making catches, with most being tackled two to three yards after the reception was made. These receivers could take a few lessons from last week's Jacob Kainer, who made defenders look silly with spin moves and stiff arms that kept him moving down the field.
Offensive Line: D
The offensive line performed terribly this game. Although Kainer escaped most sacks by rushing along the sidelines, he was never able to get enough time to throw long passes. With this performance by the offensive line, it is not hard to see how Kainer made such bad passing decisions- he was almost forced into it by defenders barreling his way through the linemen. If the line can get it together for Kainer to have more time to consider which receiver will be able to make a completion, maybe the passing yards would have been more remarkable.
Defensive Line: D
The defensive line was somewhat a non-factor in this game, allowing the Lobo quarterback as much time as he needed to get the ball off to whatever receiver was waiting 50 yards away. Along with their inability to handle the QB, Lobo running back Toneil Carter averaged 9.4 ypc- again, slipping through the Wildcat defense like a hot knife through butter.  If this defensive line wants to stay defensive, they are going to need to be more consistent with stopping the run.
Linebackers: C
Small pass plays poisoned this group's performance. Although the deep pass plays the Lobos were easily completing were very glamourous, the first half of their offensive game plan consisted of multiple short rushes, and the Wildcat linebackers could not seem to stop the quick Lobo running backs who averaged about 6 ypc. There seemed to be one glimmer of hope for this positional group in the second half,  when Neil Chambers recovered a fumble that the Langham offense caused themselves. The linebackers were also able to limit long rushes, holding Langham to four drives without scoring in the third quarter alone. Though a long rush in the fourth quarter was salt on the wound to this positional group, I can see that they will eventually be able to hold their own against a powerful offense.
Secondary: D+
The secondary failed yet again to contain the deep pass, allowing Langham to score multiple times to players wide open near the end zone, with one 56 yard TD pass that emphasized the Wildcats' inability to defend these passes. However, after halftime the secondary definitely improved- forcing three Lobo drives to rely on the run rather than the pass. Even though the team made adjustments, this team can not consistently allow drives that solely consist of long pass TDs- which they have in consecutive weeks.
Special Teams: B+
Reyes was one of the best performers in Thursday's game, nailing every kickoff and extra point available. Although the onside kick attempts did not work out for the Wildcats, they were well executed by Reyes. The kicker also managed to nail a fake punt, pulling in a first down for the struggling Wildcats in the first quarter. However, the return team did not fare as well- almost fumbling returns twice- and never gaining more than 25 yards on those returns.