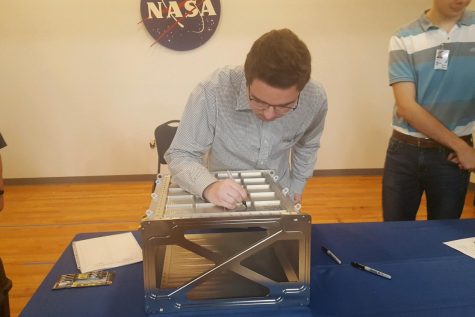 Sarah W, Copy Editor

April 30, 2018
After a full school year of working on their projects, the students involved in High Schools United with NASA to Create Hardware program, commonly known as HUNCH, have visited the Johnson Space Center to receive their final review of their products. Senior James Keiser started in the engineering class his freshma...
Do you have a valentine?
Yes :) (33%, 1 Votes)
Nah, but it's okay (33%, 1 Votes)
Valentine's day is not my thing (33%, 1 Votes)
Did you say "Galentines?" (0%, 0 Votes)
Maybe? Teenagers are confusing (0%, 0 Votes)
Total Voters: 3

Loading ...
Recent Sports Scores
Saturday, October 26

Varsity Football

CWHS 7 - Cy Ranch HS 55

Tuesday, October 22

Varsity Volleyball

CWHS 1 - Cy Ranch 3

Saturday, October 19

Varsity Football

CWHS 31 - Cy Springs HS 15

Friday, October 11

Varsity Football

CWHS 49 - Cy Park HS 28

Friday, September 27

Varsity Football

CWHS 20 - Bridgeland HS 7