Altuve's Hot Streak
Jose Altuve's five game home run streak
Hang on for a minute...we're trying to find some more stories you might like.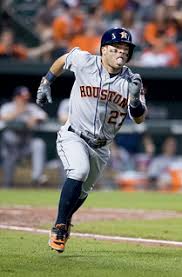 Jose Altuve has just ended a streak in which he hit a home run in five consecutive games. The Houston Astros were undefeated in those games. Altuve was also one game short of tying the franchise record of consecutive games with a home run. Even though Altuve has always been considered a great hitter, hes never been considered a great home run hitter. That may have been because of his size, standing at five feet six inches and only weighing 165 pound, or maybe its just the way he swings the bat.
Altuve was injured during the playoff series against the Boston Red Sox last year. He continued to play, but he was so bothered he even played designated hitter one game. The whole Astros team was distraught after that lose and had a whole off season to plot their revenge. So, clearly a part of Altuve's revenge is gaining more power into his swing, something he has tried to gain in years past but hadn't been able to. This year, at the age of 28, he seems to finally have figured out how to gain more power into his swing. He already has eight through 21 games the most he has ever hit in a season is 24 in the 2016 and 2017 season.
Altuve has the Astros gunning for a second world series title in three years and there third straight 100 win season. His new found power is a nice surprise for a team with an already stacked lineup. Opposing pitchers are going to have to take notice that Altuve is a legitimate power hitter if he keeps this up. The Astros also need this to keep up if they want to go back and take the championship once again. The Altuve home run streak may have just ended, but we may be seeing the beginning of a new reinvented Altuve where streaks like this aren't so uncommon.