From the Bottom to the Top
How the Cleveland Browns went from being the worst team in the league to superbowl contenders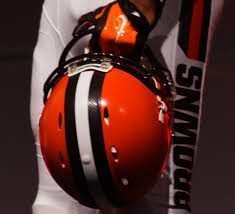 Just last year the Cleveland browns were celebrating their 0-16 season. One year later they are not only a playoff contender, but they have the chance to bring the Laramie trophy to Cleveland for the first time in Cleveland Browns history.
On March 12, 2019, the Cleveland Browns traded safety Jabrill Peppers, their 2019 1st round pick (17 overall), and their 2019 3rd round pick (95 overall) to the New York Giants for wide receiver Odell Beckham jr. This is a huge trade for the Cleveland Browns because now they have a complete and lethal offense with last year rookie sensations Baker Mayfield and Nick Chubb in the back field, and Jarvis Landry and Odell Beckham as the wideouts. Even though Beckham is going to bring his elite potential to Cleveland, the most valuable thing Beckham is going to bring to this team will be his Chemistry with the players and coaches. Last season the Cleveland Browns added wide receiver Jarvis Landry to the team and wide receiver coach Henry Adams who were both at LSU with Beckham. When they were at LSU together, Adams lead Beckham and Landry to becoming the two best receivers in LSU history. This is perfect for the Cleveland Browns because now that they are on the same team again they can dominate like they used to in college.
With the star power they added to the offensive side, people have overlooked the improvements they did on the defensive side. This offseason they added two good defensive tackles in Sheldon Richardson and Olivier Vernon to go along with one of the best pass rushers in the league in Myles Garrett. With this beast defensive line and Denzel Ward in the secondary, this defensive is going to be one of the most destructive in the league.
With all the new talent that the Cleveland Browns had required they are going to be a real threat to the league.
Leave a Comment