Reeling in the Big Fish
The huge contract that will keep Los Angeles Angels' star outfielder Mike Trout in La-La Land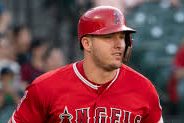 On March 19, 2019, only a few weeks after a historic deal for outfielder Bryce Harper that was worth $330 million dollars for the next 13 years to the Philadelphia Phillies, the Angel's secured Mike Trout once again. 
The Los Angeles Angels made sure that they won't lose their franchise player outfielder Mike Trout to his hometown city of Philadelphia, so they decided to resign Trout to an even more colossal contract that is worth $430 million dollars over the next 12 years.
This contract is nothing that we have seen in the entire history of the MLB. Trout will be making a whopping $221 thousand bucks a game in an Angels uniform and he will also be making an outstanding $98 thousand dollars for the rest of his tenure with the Angels. This contract cements Trout on the Angels for the rest of the star athlete's career and for the teams next dozen seasons. It isn't a bad deal because it was the only way the Angels could show Trout that they really wanted him and it was something that would pull him away from leaving them for the Phillies or another team.
Although this contract may look gigantic, and it is, Trout will be making only about $6 million dollars more per year than Manny Machado's new contract that he got from the San Diego Padres. This deal was definitely won by the Los Angeles Angels. They were able to lock up their franchise player for many years to come and also laid out a plan for who they wanted to add players around.
The move to keep Trout was a huge gain for the Los Angeles Angels organization and Mike Trout himself. And as long as Trout remains on the Angels the team will always be in contention for a title.
About the Contributor
JustinP, Co-Online Editor
Justin is currently a junior at Cy Woods. He is also the current Online Editor for the staff and is currently in his second year on the newspaper team....