Orchestras California Journey
Students advised by World Famous Conductor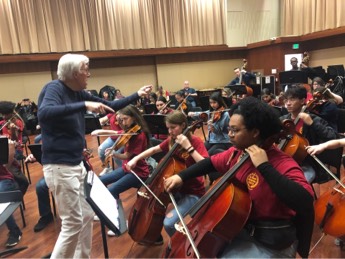 Cy Woods Orchestra was recently offered a chance to go on their very first trip to California. In mid-January 2019 at 4:15 a.m., they started their journey on a bus to the airport. When the airplane finally skidded across the pavement, signaling their arrival, the students' excitement escalated. Although they wanted to jump in right away with Disneyland, they had other important things to do first.
After practicing it for weeks orchestra performed the piece "Oh Waly Waly", by Rutter from a movement of four pieces called 'Sweet for Strings' for world-renowned conductor Larry Livingston. They had an appointment with him, wanting Livingston to bring their playing to the next level. "It was a pretty incredible experience to be under his baton. He's a professional conductor, and a lot of kids don't get that opportunity, so I am pretty blessed. Some of his techniques and what he did with us was really out of the box, but it worked, and it sounded great," sophomore and bass player Raj Patel said. Another student said that he was Anxious to meet Livingston because supposedly he would be very personal and want to get to know you.
Victoria Campion, the orchestra teacher who went on the trip, nervously at first, watched as Livingston took the reins and couldn't be happier with the musical experience they were able to enjoy. "He worked with the kids and taught them so much about phrasing and music, so hopefully, that will translate into their playing within these next few weeks," Campion said. Although his techniques and ways to warm them up were different, Livingston brought a new dynamic sound out of them while also teaching the students more about phrasing and music in general.
Now it's time for the fun: Disneyland with friends. "My favorite part was probably the second day of Disney. We rode the 'Incredicoaster' four times," senior cello player Eric Phan said. Others in the orchestra, though, like Patel, had more of a "chill" experience. Overall, though, the kids had a great time going on rides and hanging out with their friends."The people who went, I think, became closer," Phan said as he recalled good times with his fellow seniors.
This experience, as said by Phan, was a bonding experience for them, and they are thankful that they were given this chance to do that."It's something special to be in the financial situation to be able to go on this trip and just have fun, which is something a lot of kids don't get, and I'm glad I get to do it by being in the Cy Woods orchestra program," Patel said. Not only did the students feel grateful for this opportunity, but their teacher did as well."I feel very lucky because I think sometimes, orchestra is looked at as a frill, but it is really a part of the whole academic thing. It makes students smarter, and this administration and this school understands and appreciates that and supports us. I feel very blessed by that," Campion said. Orchestra's California adventure ended with a tiring trip home and new memories they will be able to keep with them forever.