Ariana Grande: 2018-2019
Grande is doing better than ever in 2019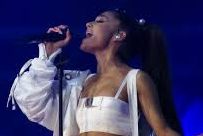 Ariana started off her 2018 absent from the public view. Even when she was expected to attend certain events, circumstances seemed to get in the way. However, no matter her rocky start she came back strong in late March.
March 24, 2018: Performs at March For Our Lives Rally
Ariana returns to the stage in Washington D.C. to bring people together in the wake of a horrific event, the Parkland, Florida school shooting.
April 15, 2018: "No Tears Left to Cry"
Before her fourth album, "Sweetener," Ariana released "No Tears Left to Cry." Which was speculated to be in response to the Manchester attack? It is a big hit and paves the way for her return to the stage.

May 2018: Mac Miller and Ariana break up
After a two-year-long relationship, Ariana and rapper Mac Miller ended it. This left many fans in shock despite the mutual respect and love for each other in their break up tweets in May.
June 11, 2018: Ariana and Pete Davidson announce the engagement
Even more surprising, Ariana and Pete after a short time announce their engagement and even have matching tattoos.
July 13, 2018: "God is a Woman"
This song representing women-empowerment was a huge success and reached the top charts immediately. Don't even get me started on the galaxy themed music video that changed the game for other artists in the future.

September 7, 2018: Mac Miller dies
Rapper Mac Miller's death came as a shock to many, especially Ariana who had been in a relationship with Malcolm four months prior. Some fans even blamed her for it and this made her grieving period harder.
October 2018: Ariana and Pete Davidson breakup
Some say Mac Miller's sudden death rocked this relationship, but others say that it was after Pete made fun of the Manchester bombing, no matter what happened many fans were saddened by this but changed their minds after her next song was released.

November 3rd, 2018: Release of "Thank you, next"
I don't know how she did it but she did. Ariana somehow managed to make a song that knocked, "God is a Woman," out of the park. Along with its cute music video referencing early 2000s hits like: Mean Girls, Bring it on, and Legally Blonde this song let her fans know that she was perfectly ok with being single, in fact, she was better.
It seems Ariana Grande had an eventful year with a lot of ups and downs, but she came out of it a better and more experienced person than when she first started. Her 2018 overall was super successful and it enters us into the rest of her "Thank you, next" album.
January 18, 2019: "7 Rings music video" is released on Grande's YouTube channel
Practically inventing a new genre of music, Grande releases "7 Rings" which becomes very popular, very quickly. It has a different type of sound and no doubt gives Ariana the confidence she needs to enter this new year.
February 7, 2019: "Break up with Your Girlfriend"
One final single along with her "Thank you, next album" is released and leaves many with questions. Some speculate that this song is a confession from the American-singer, claiming that "the boyfriend" should break up with his girlfriend so that Ariana her self can date the girl. No matter the reason behind this song, it still leaves fans bubbling with happiness as the tune is so easily stuck in one's head.
Now three months into 2019 Grande is still releasing new amazing music and her fans can't wait to hear more.
Leave a Comment