Game Of Crowns
The Talents and Pageantry That Make Up Mr. Cy Woods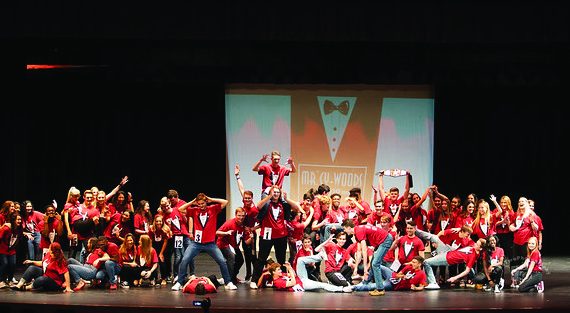 MadisonF, Staff Reporter
March 8, 2019
Miss Congeniality, Kim of Queens, Toddlers and Tiaras, Miss USA; these are some of the most coveted pageant shows or events that may have aired on your TV screen at home. But there is a real-life pageant which is special to the Cypress area: Mr. Cy Woods. 30 guys, six competitive categories, four voting boxes at lunch, three emcees and one crown of a lifetime, is what a group of current senior men experienced on Jan. 17.
Mr. Cy Woods is the annual "beauty pageant" commemorating the senior men and their talents, achievements and contributions to their school. This yer was the eighth annual competition. The night featured an opening choreographed number with all of the men and their escorts, competitive show categories in: swim wear, talent and formal-wear, as well as a red carpet finish with formal recognition. But amidst the formality and competitive air, are the diverse personalities that make up the wildcat stage.
This year, Cypress Woods faced a record breaking number of applicants with the 30 men. The funding of the event will go to the senior class as well as the Cypress Woods Theatre Company. The contestants came from wide areas of activities and organizations within the school. From varsity sports such as football and track to theater arts and choir, these men were ready to show the audience what they're made of.
"I'm excited to see everyone's talents because that is fun to watch," Emcee Ashley Santiago said.
Santiago, along with Grace Womack and senior Tommy Box, were the emcees for the night, providing special announcements about upcoming events at the Woods.
Along with these three emcees, are a group of parent volunteers and technical theatre students, making sure the best night possible can happen for these men. From palm trees to red carpets and bling, these volunteers, students and parents alike were armed and ready for the spotlight.