Texans Reconstruction
What Texans need to do in the off-season in order to compete for a championship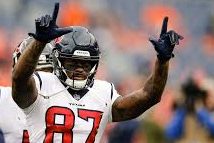 After getting completely dominated by the colts in the first round of the playoff many people are wondering what changes are they going to make to the team in order to be a contender for the Laramie trophy. The First and most important thing they need to do is bring back Jadeveon Clowney and Tyrann Mathieu. This year Clowney was the best linebacker for Texans and one of the best in the league having 38 solo tackles 9 sacks and 16 tackles for a loss and 21 QB hits, and Tyrann Mathieu lead the secondary for the Texans having 2 interceptions, 8 pass deflections, and 70 solo tackles. The second thing they need to do this off season is get a new offensive line. For years now the Texans have had the worst offensive line in the entire NFL. This year Deshaun Watson got sacked 62 times the most in the league, and the 5th most all time. Witch is saying something when Watson is one of the most mobile QBs in the league. The good news for the Texans is that they have they have their first round pick and two seconds, so they could draft a good lineman this year and they have cap room to sing a good lineman in the off season. The last thing they need to do is get a new secondary.Even though they have Mathieu who is a great free safety, they really don't have anybody else in the secondary. This year the Texans were the 26st best pass defense in the league averaging 257 passing yards against them in a game, and their opponents average 1.8 passing touchdowns a game this year witch was the 18th best in the league. In order to fix this problem they will need to draft a good defensive back in the draft, and hopefully get a good defensive back this off season. If the Texans can fix these problems in the off season, they will have a good chance to win it all.
About the Writer
CooperG, Staff Reporter
Cooper Griffin is currently a junior at Cy Woods. He is a major basketball, football, baseball, and track fan. His hobbies included running cross country,...