Business is Not Boomin
Hang on for a minute...we're trying to find some more stories you might like.
What the Steelers can do with All Pro wide receiver Antonio Brown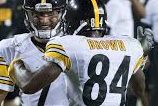 Antonio Brown has went from All Pro wide receiver(WR) to an All Pro diva in a matter of a few days in many eyes of Pittsburgh Steelers fans and football fans across the country. It all started with Brown not playing in the Steelers final game against the Cincinnati Bengals, after we all learned from a report in the Pittsburgh Post Gazette by Ed Bouchette stating that Brown had a dispute with a teammate. It all went down hill from their with the teammate being named starting quarterback(QB) Ben Roethlisberger and after the altercation Brown decided he didn't need to come to anymore practices for that week. He tried to state that he had a knee injury but Head Coach Mike Tomlin stated in his end of season press conference that Brown was scheduled for an MRI but never showed up. All that leads to a very interesting proposition for the Steelers as they head into the off season they can trade away a once in a generation talent and take a huge dead cap hit or try and work through their problems as you cant deny something is off with Brown and Roethlisberger off the field, but their production on the field is as good as any WR-QB duo in recent history.
Trading Brown would be a huge blockbuster move that a couple years ago fans would've never seen coming. If the Steelers trade him they would take a 22 million dead cap hit which means one of their highest paid players wouldn't even be on their team. Another issue is what truly could the Steelers get in return? Is just one first round pick enough for a WR of Browns caliber? These are questions the organization has to answer internally and fast because brown has a roster bonus of 2.5 million on just the 5th day of the new league year when it comes.
The Steelers could also keep Brown and try to work through the problems between him and his teammates/coaches. That would have to start with him repairing the ultimately lost relationship with Roethlisberger and Tomlin. Also, Some of his teammates don't seem to happy with him with starting Defensive End Cam Heyward calling his recent actions unacceptable. Then Brown would probably have to make an assurance to the whole organization that this would never happen again because if it does then the Steelers come out of the situation looking about as dumb as a box of rocks.
Personally, my belief is the Steelers should trade Brown and get whatever they can for him and just take the huge dead cap hit. Mike Tomlin genuinely seemed like a coach that had been pushed to his limits by a player hes went to bat for several times , Rothelisberger seems like hes just trying to save a relationship if any between him and his star WR ultimately knowing how good Brown is, and browns teammates are upset they feel betrayed Cam Heyward doesn't speak lightly so when he talks he usually is speaking for a group of people.  The Steelers are the laughing stock of the league right now and that has to change and the first change you need to make is to eliminate the cause of the problem which is Brown at this point. Sometimes even if it makes you look like a worse team on paper you'll still become a better team on the field so eliminate the cause so we can get back to the Steelers the gold standard of winning in the NFL.