A Colorful Story
In Accra, Ghana, a seamstress is attempting to send one of her twin nineteen-year old daughters to university. Her nimble fingers craft colorful bags and bright shirts while her daughters help thread round beads onto strings. Vibrant reds, luminous yellows, jade greens and sky blues surround her in the forms of tiny fabric scraps. Despite their efforts, business is slow, but that's all about to change when American world-traveler and author Mindi Eluwole visits their shop. She's only there for a new travel bag, but Eluwole leaves with so much more.
"My bag I had bought in Thailand was falling apart, so I asked Abigail (the seamstress) if she could make me a new one and she asked for my bag as a prototype. I said 'sure, but all my stuff's in it,' so she gave me one of her bags and told me to keep it until she made me a new one," Eluwole said. 
From there, a friendship blossomed and an idea grew: buy Abigail's merchandise and sell it in the US. It started with just two suitcases full of African-style bags and shirts brought through customs by Mindi's husband, Femi Eluwole, but their project quickly expanded.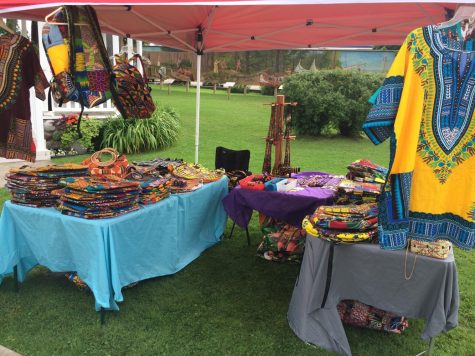 Just four orders later, Abigail was able to send both of her daughters to school, and the Eluwoles have found different ways to contribute to the lives of seamstresses and children in Ghana.
"We have a gentleman in Ghana (Stephen) that buys our products for us. He owned a beach bar and that was our fun little beach hangout during the weekends. We became such good friends that we can trust him enough to send him money so he can buy and ship for us," Mindi said.
At first, the Eluwoles tried regular post to ship their carefully-woven and colorful products, but when it took a month to arrive, the Eluwoles decided to use Delta Air Cargo for shipping.
"This has all been so organic, it's just fallen in our lap. We first started with Abigail and her daughters, but once they were in university, they couldn't sew anymore. They'd call us and say 'we can't make them anymore because we're studying, we have exams this week, we can't produce!' And so we naturally found another seamstress in the market," Mindi said. "As we keep growing, we expand to new seamstresses and are continuing to focus on education. We want to help [the seamstresses] build up their lives and send their children to school." 
However, the Eluwoles don't plan on stopping there.
"We have a school that we're going to scholarship all their uniforms for since sometimes in Africa, a family might not be able to raise enough money for the school uniforms and the school fees, so we want to work on uniforms first and down the way, we'd love to cover the fees as well," Mindi said. 
Currently, three seamstresses are working with the Eluwoles in an effort to send their own children to school.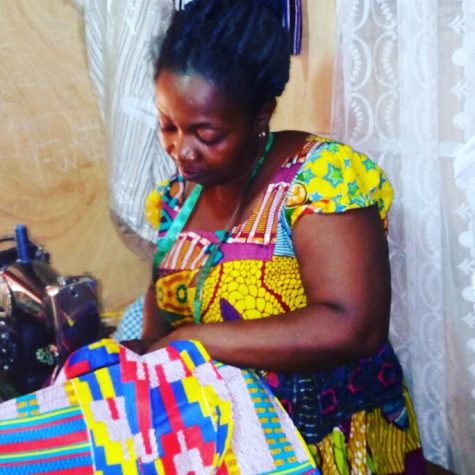 "We interview all of our seamstresses because we really like to have them putting kids to school and 99.9 percent of them have children at school age," Mindi said, adding, "In most African countries if you have four or five children, you may only be able to educate one child, so families usually focus on an elder male child because he may have more of a chance to bring money back to the family. That's why we try to focus on girls, so they can, at the very least, get a primary school education so they can read or write or have a chance to do something other than sewing if that's not all they want to do."
In just a year, the Eluwoles have managed to sell approximately 400 different pieces and move forward to scholarship a school in Stephen's village.
"We said [to Stephen], 'you're doing all this work for us, how can we help bless someone in your area?' He said he has a school in his village he'd love to help, so he's going to go take pictures of the school, show us the uniforms, and arrange for us to send new uniforms to the school," Mindi said.
However naturally this project started, the Eluwoles say it was not entirely unexpected. Having traveled the world and visited 117 countries, Mindi does expect miraculous things in life.
"This was just something we thought we'd do for fun," Mindi said. "I love the colors, I love being around it, I love talking about Africa, I love talking about traveling, but [our project] is growing and it's amazing."
Although the Eluwoles have not yet entered online sales due to high demand and low stock, they plan on going to Florida to take their project to the next level and getting into flea markets.
"We're hoping that maybe next year, we have shops open and the women come here and do trade shows with us so they can experience America. We can dream big, right?" Mindi said.
Regardless of the Eluwoles' future plans for their project, the Eluwoles are sticking to their initial purpose: improving the lives of seamstresses and children.
"What I like most [about this project]," Mindi shared, "Is that I get to talk about Africa and the people there, knowing that with every sale, we are changing lives."
---
Interested in your own African bag? Contact Mindi on her Facebook page here.
Leave a Comment