WoodsVJerseyVillage Game Grades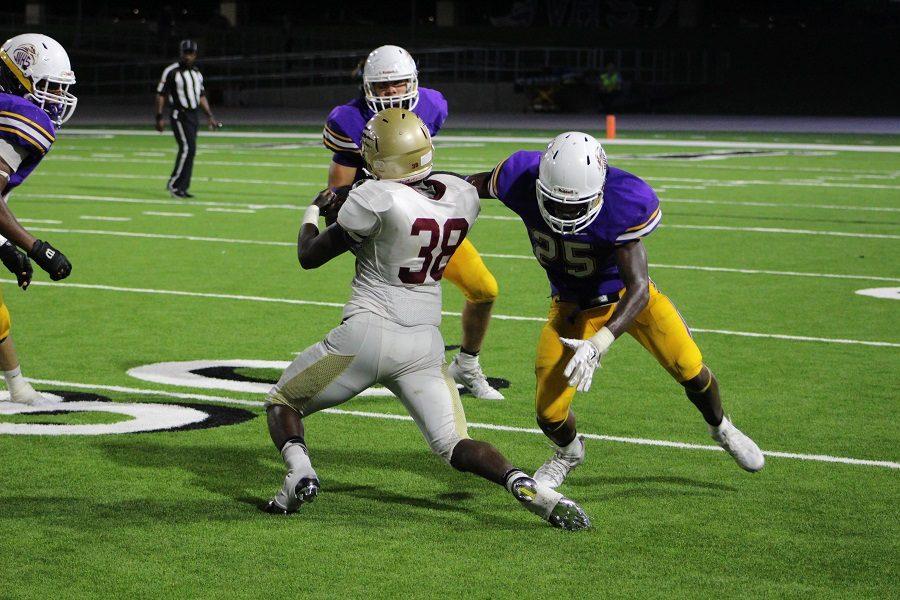 JordanM, Editor-in-Chief
September 25, 2016
On Saturday night, the Wildcats battled the Jersey Village Falcons at Pridgeon stadium, falling 58-46 to the previously 0-3 team. A recap of this offensive shootout can be found here, and below I will be dissecting how each positional group played.
Quarterbacks: B+
Junior Jacob Kainer seemed to be an unstoppable force during Saturday's game, rushing for over 120 yards and picking up three touchdowns on the ground. He did an amazing job perfecting the stiff arm and pulling a few spin moves that would not allow Falcon defenders to bring down the 6'3 quarterback, and Kainer did not stop there. He threw for 340 passing yards, with only 9 incompletions throughout the night. Though Kainer escaped the night with no interceptions, fumbles plagued the quarterback yet again, with two that proved to be the beginning of the Wildcats' breakdown. Though Kainer got off a reinvigorating 61 yard touchdown pass, his longest this season, late in the game, it was not enough to get a comeback win for the Wildcats. In the mid fourth quarter, Kainer came off the field with an injury and was replaced by senior Brighton Gullickson. Gullickson only got off one completion before throwing an interception, with the hopes for a late comeback win vanishing quickly. Kainer is definitely on the way to becoming a dominant quarterback this season, but both QBs need to work on keeping the ball in the hands of their own team.
Runningbacks: C-
The running game was remarkable throughout this matchup for Jacob Kainer, who came out as the leading rusher. Other than Kainer, the Wildcats only had 14 attempts for positive yardage. Jack Barrientez and Elijah Surtain picked up 53 yards combined, an abysmal total compared to Barrientez's 48 yards last week. However, Barrientez stunned as a receiver- picking up 116 yards on 8 receptions and one TD. He also ran a fantastic trick play, with Kainer pitching it to Barrientez and Barrientez throwing a 28 yard pass for a touchdown. But when met with some enthusiastic Falcon defenders, the running backs could not seem to get anything started unless they were receiving.
Receivers: A
Receiving was the most important component of this matchup, with a significant improvement in pass completion that doubles last week's. Barrientez was the obvious standout in this category, averaging 14.5 yards/catch working in the backfield, but really all receivers gained substantial yardage, averaging 16 yards/catch and bringing the Wildcat offense 3 TDs in total.
Offensive Line: B-
The offensive line definitely did their part in allowing Kainer time to throw completions, but still allowed multiple sacks that twice resulted in fumbles. Though the line significantly improved from last week's mess, there are still some necessary changes to be made to give the run game a better chance at success. Though Kainer was able to run himself and be protected most of the game, an injury near the end caused Kainer to come out, and this cannot happen if the Wildcats want a healthy quarterback and a standard run game.
Defensive Line: F
The rush was a dominant force for Jersey Village, with the Wildcat defense allowing over 250 rushing yards and 4 rushing touchdowns. Falcon Jireh Thompson was like a hot knife through butter the entire night, earning 242 yards alone. If the defensive line wants to gain any sort of prowess this season they need to rectify the constant bad tackling that allowed for this kind of rushing yardage from one player.
Linebackers: D
The game was really a tale of two halves for this defensive category. The first half, linebacker Myles Wilson recovered two fumbles and let the Wildcats preserve a lead going into halftime. Even though they allowed two touchdowns in the second quarter, it seemed that the Wildcats would keep adding to their 31-17 lead in the second half with how the offense was performing. However, the defense crumbled after the half, allowing three touchdowns in the 3rd quarter alone. When the Wildcats looked to embark on a comeback in the second half, with Myles Wilson building on another great performance by scoring a two-point conversion. 30 seconds after that play the Wildcat defense allowed a Jersey Village touchdown on the first play of the drive. If winning is in the future for this team, the defense is going to really need to learn to stay consistent; especially with two games in a row where they have given up a halftime lead.
Secondary: D-
Although the secondary was not as swiss-cheese-esque as the defensive line, they still allowed substantial pass yardage from the Falcons. 368 yards and three TDs for Falcons receivers, and no interceptions by the secondary to look to for bright spots. Though they managed to hold off some deep passes in the first half, they were essentially a non-factor in the second- allowing for Jersey Village to score in a matter of seconds at least twice on long passes. This defense need to make some plays if they want to make a presence in the district.
Special Teams: B-
Though Reyes was stellar on kickoffs and nailed every extra point and field goal, he was a little off on punts. He averaged 34 yards/punt and we have certainly seen better from him on that front, with the second week's punting average beating out multiple NFL punters. A failed onside kick was the bleak point for Wildcat special teams, which partially sealed the fate of an attempted comeback win. Returns were not very impactful in this game for Woods, with no substantial run yardage gained- just the average 10-15 yard returns.