Returning to the Woods
School all over the country has looked very different this year than ever before, and it's no different at the Woods. Cy-Fair ISD decided to allow students to choose between in-person and online learning. After the first grading period, the district let students redecide and over 200 students returned to the Cy-Woods campus.
While online learning sounds convenient and is a safer option for students, Junior Chase Goza describes it very differently.
"It was really hard to focus," said Goza. "It was hard to keep my motivation up and there were lots of distractions."
Likewise, Junior Candice Tecson had a similar experience with online learning.
"Online school was depressing," said Tecson. "I feel like I needed some social interaction because it was deteriorating my mental health."
Deciding to come back to school is a big decision, but Goza made it without a second thought.
"I decided to come back because I missed my friends," said Goza. "I was tired of being at home all day."
On the other hand, Tecson had more factors to consider when returning to in-person.
"My entire family is at extremely high risk," said Tecson. "It's scary knowing that I could have it but be asymptomatic and potentially pass it to them."
Although the first grading period has passed, for Goza it almost seemed like it was the start of the year.
"It was kind of weird adjusting to school again because I'm not used to waking up that early," said Goza. "It kind of felt like the first day of school."
With such a large number of students returning, in-person has become the preferred way of learning for many students.
"It's easier to focus because I'm more disciplined with everything while being in person," said Tecson. "It's way easier to learn in person."
About the Writer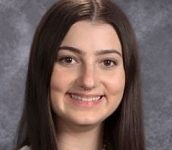 Regan Grant, Editor-in-Chief & Reporter
Regan Grant is currently a Junior at Cy Woods. She is Co Editor-in-Chief of the Crimson Connection. She loves dance and is a member of the Cy Woods Crimson...