Why VAR Is Necessary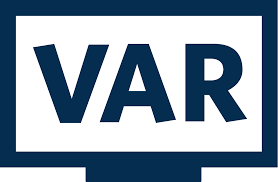 VAR, or Video Assistant Referee, is an review system in soccer which reviews plays that may or may not count, like a goal. It has had some mixed feelings since it was introduced at the 2018 FIFA World Cup. Some people say that it helps overrule anything that shouldn't have happened. Some people say that it gives certain teams an advantage. I think VAR is necessary because it makes soccer more fair and fun to watch.
Last Wednesday, I was watching the UEFA Champions League match between Manchester City and Tottenham Hotspur. This game was remembered as one of the best UCL matches in recent memory. The game started out with 5 goals within the first 21 minutes of the game. Tottenham was leading the series 1-0 on aggregate from the first leg, but with three goals scored for Man. City by Raheem Sterling and Bernardo Silva, and two goals scored for Tottenham by Heung-Min Son, the game was mesmerizing. After an Sergio Aguero goal in the 59th minute, the aggregate was 4-3 in favor of Man. City. But, an Fernando Llorente header, which many considered a handball until VAR ruled it a goal, tied up the aggregate at 4-4 with Tottenham winning on away goals. It looked all set and done for Tottenham. Until the 93rd minute. With everybody watching, Raheem Sterling fired a shot into the goal, almost sealing the victory for Man. City. But VAR ruled Sergio Aguero offside, making the goal not count and winning the series for Tottenham.
This game was a perfect example of why soccer needs VAR. Had VAR not been used, the offside goal would've been counted, thus giving Man. City the win unfairly. Now, some people may think that VAR is bad because it gives teams an unfair advantage. They say VAR gives bigger-market teams an advantage over smaller teams, especially in prestigious competitions like the UCL, which brings in an annual revenue of $22.8 billion, profiting off of usual big names winning the competition. After all, the UCL final is the most watched sporting event every year. But, VAR brings fairness to the game. And most of the time, the rulings favor all teams. On top of that, it makes the games more thrilling and fun. This is why VAR is not only needed in all competitions, but necessary.
About the Contributor
EvanH, Staff Reporter
Evan Hull was born on October 6, 2003 in San Francisco, California. He is currently a sophomore at Cy-Woods. He is a huge sports fan, particularly soccer,...