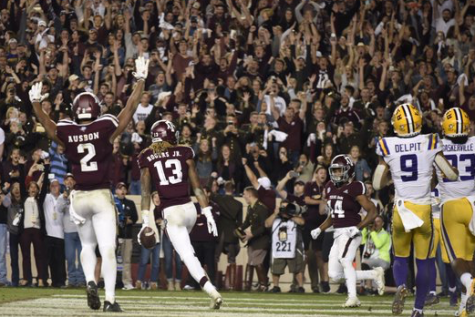 ErinE, Online Editor

November 27, 2018
Nov. 24- Kyle Field. Aggies. Tigers. 6:30 p.m. Game time. The Aggies of Texas A&M faced the seventh ranked Tigers of LSU. Going into the game, everyone knew that A&M had not beat LSU since 1995, so the stakes were high for this game. With the Aggies being predicted to lose, they went into game as...
Disney World or Disney Land?
Universal (44%, 4 Votes)
Disney World (33%, 3 Votes)
neither (22%, 2 Votes)
Disney Land (0%, 0 Votes)
Total Voters: 9

Loading ...
Recent Sports Scores
Saturday, October 26

Varsity Football

CWHS 7 - Cy Ranch HS 55

Tuesday, October 22

Varsity Volleyball

CWHS 1 - Cy Ranch 3

Saturday, October 19

Varsity Football

CWHS 31 - Cy Springs HS 15

Friday, October 11

Varsity Football

CWHS 49 - Cy Park HS 28

Friday, September 27

Varsity Football

CWHS 20 - Bridgeland HS 7