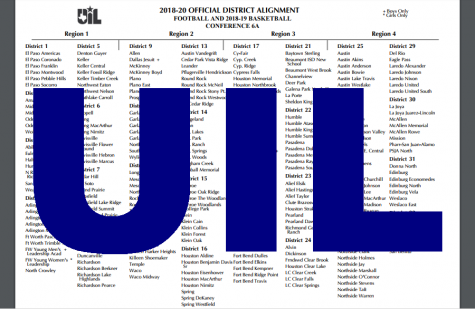 AbigailH, Staff Reporter

February 1, 2018
The University Interscholastic League(UIL), which administers athletic, music and academic contests for public schools in Texas, has released a new district realignment that will be in effect for the next two years. With this realignment, Cy-Fair ISD schools will be divided into two separate districts and p...
Tags: 2018-2020, acedimics, athletics, Basketball, competition, Cy-Fair ISD, District, Football, music, region, uil
Recent Sports Scores
Tuesday, November 13

Basketball

CWHS 47 - Fort Bend Kempner 55

Tuesday, November 13

Basketball

CWHS 29 - Fort Bend Bush 46

Sunday, November 11

Football

CWHS 20 - Bryan 19

Saturday, November 10

Basketball

CWHS 43 - Angleton 46

Friday, November 9

Basketball

CWHS 35 - Pasadena Memorial 40

Loading ...