Roughing up the NFL
Hang on for a minute...we're trying to find some more stories you might like.
Why the new roughing the passer rules are ruining the NFL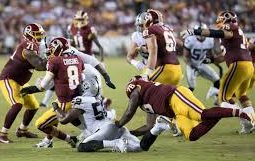 The NFL has recently been cracking down on hits on the quarterback. New rules made in the off season are prohibiting defensive players from being able land on the quarterback after they sack them, and they already were prohibited from hitting them below the waist and in the head. Several star defensive players have come out against these new rules with Houston Texans defensive end J.J. Watt tweeting " Roughing the passer calls are absolutely out of control." The NFL has seen a huge drop in ratings due to the National Anthem protests so right now they are in full panic mode trying to gain those viewer backs , and one of the ways they think they can do that is by keeping their star players healthy. The quarterbacks are by far always the most important people on your football team which will usually make them a teams' biggest star so the NFL believes if they can set new rules in place to keep them healthy the ratings should go back up.  This is where the NFL went wrong though.
When they implemented these rules in the off season they thought of them as a good way to help quarterbacks and make them stay more healthy,and that's worked out well for the most part with quarterbacks staying healthy they're sacrificing a lot of what football is by gaining just a little more safety. Football is a physical sport it always has been and will be if you cant take physicality quit and find something better to do. One of the biggest moments of peak outrage at this new rule came in week 2 when the Green Bay Packers played the Minnesota Vikings. Packers outside Linebacker Clay Matthews went in for a sack on Vikings Quarterback Kirk Cousins when they go down for the sack Matthews looks to put his left hand on the ground to stop him from landing fully on Cousins and the ref still threw a flag.
" What do you want the defender to do?" Ex Head of Officiating Dean Blandino said on his weekly show the day after that happened ""To me, it looks like he's wrapping and he's trying to bring the quarterback to the ground. There is going to be some force. There is going to be some impetus that takes both players to the ground. Again, what do you want the defender to do in that situation?"
Even Cousins knew that the call was wrong after the game acknowledging to NBC's Peter King "I'm sure it was probably a generous call, and two or three years ago, it probably doesn't get flagged."
The integrity of a game is sometimes more important that gaining viewers back. If the NFL continue's down the same path its going they're going to lose a lot more fans then they gain. I remember years ago when i could turn on You Tube and watch the Biggest Hits compilation from the past weekend. That's the NFL I love not saying we have to stay away from making the game more safe but when you have an ex Head of Officiating saying pretty much that the rule is ridiculous then you have a problem. There is plenty of more ways to make the game safer for your star quarterbacks NFL why don't you get together, and think of a different rule then the one you have now cause clearly its not working.