Next Big Three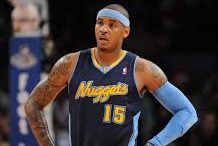 The Carmelo Anthony in Oklahoma City experiment proved to be dysfunctional and helped result in another first round elimination of the Thunder. The Thunder realized that the $28 million dollars owed to Anthony this upcoming season would only hurt them, so he got shipped off to Atlanta, where soon after he was cut. But now Carmelo will take his talents to clutch city to team up with his best friend Chris Paul and reigning MVP James Harden.
This will now be Carmelo Anthony and Mike D'Antoni part two. The last time D'Antoni and Anthony were associated with one another was back when Carmelo was leading the Knicks which was coached by D'Antoni. The summary of this time is that Carmelo pushed D'Antoni out of New York, basically forced him to quit. But this time it is different. Back then Carmelo was a household name. He was the best player on any time he was on and had all the power. But now he will be the third, fourth , or even the fifth wheel on a team who almost beat the Warriors in the Western Conference finals.In a 2017 interview, Carmelo laughed off the idea of coming off the bench, but now at this stage of his career that is all he is.
Now despite the bad stuff, Carmelo is still capable of being a high level offensive scorer. He can give something to the Rockets that the team lacked last year. The mid range shooting ability. Last season, the mid range shot for Houston was basically non existent and that proved fatal to their season. Anthony struggles on the defensive end, but can back it up on offense.
Now, Carmelo has a solid backup in James Ennis. Ennis has the three point ability and is a consistent defender. So Carmelo will have to fight for that starting slot with star guards in Chris Paul and James Harden, consistent defender in PJ Tucker and rising center Clint Capela. This season is very different for the Rockets and Carmelo Anthony, but with rising talent growing in the NBA it will be a war. The Rockets will succeed this season , but what Carmelo Anthony will we see. Denver or OKC?