The JIMBO ERA is alive and well
Texas A&M Football is headed in the right direction.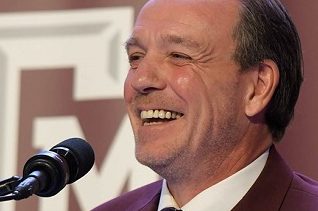 In December of 2017, Texas A&M University made the drastic addition of making Coach Jimbo Fisher the new head coach. 10 months later, that hire has Texas A&M Football making program history.
Texas A&M has started off the season hot, to say the least. While, A&M does have one loss on their record, it is an impressive loss. Week two of college football, the Aggies, unranked, faced the Clemson Tigers who were ranked number two in the nation.
Although the Ag's took a loss to the Clemson, they sure gave those Tigers a tough one. Take a look at some of the significant stats that the Aggies put up against the second best team in college football, all thanks to the man with the name of Jimbo Fisher:
Clemson's defense had allowed its last 6 opponents to 261 yards or less. Texas A&M put up a total of 501 yards against the Tigers. This means that going all the way back into the 2017 season and into this season, the #2 team in  nation had only allowed 261 yards total for all six games. A&M, who was unranked, doubled that number and went for 501 yards all over their defense.

Already knowing that Texas A&M put up 501 yards against the Clemson defense, let's dig a little deeper into those stats. The Aggies put up 403 passing yards, while Clemson only had 298 passing yards. Clemson ended up with a total of 413 yards, 88 yards less than Texas A&M.

Texas A&M had 11 more first down conversions than Clemson, with the Aggies converting 25 and the Tigers only converting 14.

Trailing 28-13, Kellen Mond, A&M's starting quarterback, led the Aggies to two fourth-quarter touchdown drives. These two touchdowns were big because it got A&M within 2 points of Clemson, and it showed that the Aggies wouldn't quit until the scoreboard showed 00:00.

Three Aggie defense players put up a total of 23 tackles against the Clemson defense, just between themselves. This is a big statistic because A&M's defense hasn't been the best in the past few seasons, but they showed out against the Tigers.

A non related game stat, The 12th Man (what A&M's fans are called) packed the stadium with a record breaking attendance rate at 104,794. The fans showed up and created a new reputation for Jimbo's new era.
While these are just a few key takeaways from this match up, the Aggies will hopefully add more and more record breaking performances to their resume this season. With a new coach who is being paid $75 million, it's safe to say that the Jimbo era is just now getting started and it's going to get good.