The Legacy of Lucy Gooden
Once a Wildcat, always a Wildcat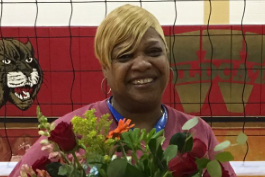 Tuesday night or Friday night. Seven o'clock. Basketball game or volleyball game. She was always there supporting her Wildcats. Maybe it was for 5 minutes, 1 quarter or even the full game. The voice of Cypress Woods, Lucy Gooden our head custodian, was always there to cheer on her Wildcats.
"I would turn around and I would always see Lucy pop in and watch us play," said sophomore volleyball player, Sarah Bilski. "She may not have been able to stay the whole game, but she for sure always made an appearance to show her support."
Lucy not only showed her support, sometimes if you got lucky she would put on her coaching hat and give you some input on how to improve your game and the team.
"I can depend on her to tell the team what we did wrong and what we need to work on, which I greatly appreciate," senior basketball player, Faith Isabelle said. "Her support for the girls' basketball team is amazing, and it's going to be different without her."
After 12 years of basketball, volleyball games, pep rallies, send offs and general 212 spirit, after 12 years of serving our school as a head custodian, Lucy Gooden retired in December 2017. Mrs. Lucy has left a legacy of caring for each and every student that passes through our school.
Lucy shows great support for sports but also she knows how to talk to kids and give them her own personal advice, which means more to some kids, just ask Faith Isabelle.
"Yes, I love her support for the basketball program but I am more appreciative of her because she knows how to talk to me because she understands me," said Isabelle. "She is like my second mom, I am going to miss our daily talks after school about school, choices, basketball, family and life in general."
Lucy's ability to build relationships with students has impacted the students but also Lucy's life.
"Being able to become close with some students, is one of the reasons I've stayed on the job for so long," said Gooden. "I love how they treat me like I'm more than just a woman who cleans the school; I love the students of this school."
Even administrators could tell you about the impact that Gooden brings to the lives of the students in our school.
"I watch Lucy openly talk to every student that comes her way," Director of Instruction, Kelly Ellis said. "Lucy will talk to anyone, she will just walk up to you and it could be like you've known each other for 20 years because she loves to have meaningful conversations with anyone."
Lucy's legacy started a long time ago back in 2006 when she opened Cy-Woods and was the first person to step foot in the building. Opening a school that is this big is not an easy task, just ask Lucy herself.
"Opening the school has hard, I had to put on so many hats, because I played so many different roles," Gooden said. "I would not open another school because once again I had to wear so many hats."
With that being said, Lucy is so proud and glad she chose to open this school, because Cy-Woods has changed her life and she wouldn't have it any other way.
"My decision to come to Woods will forever be close to my heart," said Gooden. "I've been able to grow relationships with the staff, students and have truly felt a part of this Wildcat Family."
Lucy's hard work began months before Woods was ready for students. Lucy was up here from sun rise to sun fall preparing the school for the upcoming fall. From waxing the floors, bringing in to furniture to helping teachers bring in stuff for their rooms, Lucy was always lending a helping hand.
"My first memory with Lucy at Woods would have to be, just watching all of the desks, chairs and furniture coming through the front doors," Ellis said. "We had no clue what we were doing, but Lucy had a plan and somehow with that plan, we got the school ready for the fall."
The school was up and running because of the organization and plans that Lucy had planned out. With the help on the current admin and staff, Lucy directed them with what needed what needed to where.
"Somehow with all the help, we got the job done," Gooden said. "I had a plan and it worked, we got everything where it need to be and when we accomplished the environment of the school, we were just ready for the students."
Lucy eventually received those students and hasn't looked back. All the hard work had payed off because she could then establish those relationships with the kids.
Even though Lucy Gooden is on longer be an employee of Cypress Woods, she will forever and always be a special part of our Wildcat Family.
About the Contributor
ErinE, Editor-in-Chief
Erin Ellis is currently a senior at Cy Woods. She is a huge sports fan, football, baseball, basketball and any other sport. Her hobbies include watching...