Comeback SZN
The story of Johnny Manziel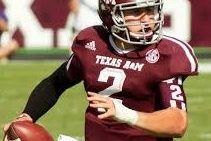 Johnny Manziel was a blaze of glory for the Aggies back when he played quarterback at Texas A&M. Sadly, that quickly took a downhill fall once Manziel got tangled up in off the field drama. Johnny was known to the world as a "joke," "waste of time" and a "loser" because of all his mistakes. Although Johnny did have multiple bumps in the road on his journey, I have always supported him. As he makes this comeback, I can't wait to see him succeed at this second chance.
Johnny Manziel did make many mistakes over the past few years and I'm not going to say that all his mistakes were not that big of a deal. Manziel was accused of assault, domestic violence, and was also very much involved with alcohol. I'm going to be honest, it was very hard to stand up for Johnny because of all his stupid decisions but I was still his #1 fan and still am now.
Johnny recently shared with the world that he was diagnosed with bipolar disease and also that he self-medicated with alcohol because that was his normal at the time. These are not excuses that I am making for him, but they do give a little bit of insight on what was going on his life. People were so quick to judge Manziel during his "dark years" but they didn't truly understand what was going on in his life.
Johnny is now coming to realize how all those mistakes have added up and he has decided to make a change. Johnny swears that he is no longer drinking alcohol and that he is beginning to take medicine for mental health issues. Johnny is ready to get back to his old college football self, and I might even be more excited than he is.
Johnny's college stats don't lie! In just two years Manziel racked up 7820 yards and 63 touchdowns, became the first freshman to win the Heisman, and also the first freshman to win the Davey O'Brien National Quarterback Award winner, and countless more awards.
My favorite memory of 'Johnny Football' in the maroon and white occurred on September 14, 2013. 3rd & 8 on the 40th, game on the line. Ball is snapped. Defensive blitz. Getting rushed back to mid field. Back another 10 yards. Loses his balance but his knee doesn't touch the ground. Back to his feet. Launches the ball. And its caught! A 50 yard completed pass!
That play is by far my favorite, and being able to see that same Johnny possibly back in a football uniform makes me go crazy. Johnny deserves a second chance to be able to show the world how a man can go through a rough patch but can then make it back to the player that the whole nation loved.
Despite popular belief, Johnny Manziel is a very nice and caring man. Johnny has held countless autograph sessions, meet and greets, and pop up shops. Johnny has done this because he wants to give back to the fans that have stuck by his side.
Being one of those fans that have stuck by his side, I have had the wonderful opportunity of meeting Johnny twice. My favorite time meeting him was two weeks ago in College Station. He held an autograph session from 1:00-5:00. The line was wrapped around the building, through the parking lot and eventually into the street. With that many people there was no way that he would be able to see that many people in four hours. So Johnny stayed two more hours just so he could show the love to fans who have shown the love to him. Johnny could have easily just left and left all the fans in tears but Johnny has a heart and he stuck it out. I was so glad he chose to stay because I personally would have been so upset.
Due to popular belief, Johnny Manziel is not a jerk, he is a man who is loyal to his fans and who genuinely cares for people.
With all the ups and the downs that have occurred in Johnny's life, I still believe that he deserves a second chance. The world should know about his comeback season. From a teenager who shook the world of college football to a young adult who only thought that alcohol was the way to go to now a man who is willing to give his everything just to see the football field again. Johnny Manziel is worth the chance and this time I promise he will not take advantage of it.