Secret Second Period
A look into second period P.E.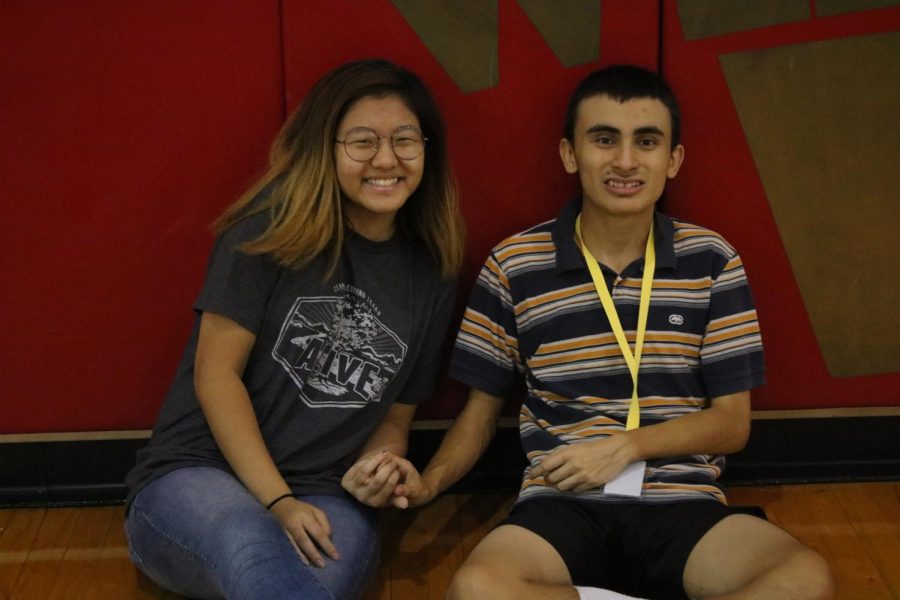 "Line up," Coach Voelkel shouts to the class after everyone files into the gym. The class scrambles to find their partners then start to walk around the gym, mixed voices drowning out the music from the speakers. After a few laps, another yell from Coach Voelkel indicates that it is  time to start the exercises. The students gather around the coach as he looks to junior Muhammad Akbar, who is always eager to lead the class, waiting for his instructions. After thinking for a moment, Akbar says, "Jumping jacks. Ready, go." Voelkel repeats this louder, then a chorus of voices starts to count one to 10; heads bouncing as the students jump and wave their arms in the air. After a few more simple exercises lead by Akbar, everyone excitedly heads to the equipment room, ready to start the day's activity.
This may not  sound like your traditional gym class, however to second period P.E., this is the routine everyday. In the beginning of the year, second period P.E. students are given the opportunity to become a student helper and spend time with Life Skills students in order to get the P.E. credit that is mandatory for graduation..
"Each day we start walking laps around the gym after announcements," senior Joy Park said. "Then we do some basic exercises that get them them moving. After, we normally run two laps and then begin our activity for the day."
Despite the fact that being in the traditional P.E. class and being a student helper might seem similar regarding their daily activities, according to Park there are more benefits to being a student helper over participating in P.E.
"[Student helpers] don't have to buy a uniform or dress out and we don't have to do actual exercises," Park said.
Besides having the physical advantages, sophomore Benjamin Jackson appreciates the emotional benefits that accompanies being a student helper.
"I enjoy [being a student helper] because I love seeing the other students smile and be happy," Jackson said. "I wanted to be a friend to kids who don't usually get to interact with other students."
Being a student helper does not require any previous experience in this field. On the contrary, many student helpers are beginners regarding this type of work; however most believe that these skills can be learned fairly quickly.
"Patience is definitely something that you learn very fast," junior Cassidy Pennell said. "It's very rewarding, being able to be apart of this and make other people happy."
Even though past experience is not mandatory to be a student helper, Park has participated in Camp Blessing, a summer camp program, and believes that it helps when socializing with the other students.
"My experience at Camp Blessing has allowed me to interact with many campers with different disabilities," Park said. "I understand how differently they behave or react to things. [Camp] Blessing has also taught me how to exercise patience and to love on others wholeheartedly. This really helps with P.E. because you shouldn't get frustrated when someone doesn't listen or respond automatically, but instead be patient with them and continue to love them."
Freshman Seth McCabe has also worked with people with disabilities before, and has had to adjust to the differences between the two activities.
"The main difference is the number of people I'm working with," McCabe said. "In the other experiences, it was always just one person in one place, but this year I'm getting to know this whole new environment with all these different people."
McCabe expresses that even though he has enjoyed both of these experiences, he enjoys P.E. more.
"Not only do I get more experience with working with the students, but I get to witness how they all get along and interact with one another," McCabe said.
Freshman Zach Martinez enjoys spending time with the student helpers and being in P.E. with them.
"My favorite part is when we play basketball," Martinez said. "I like to make new friends."
Park believes that P.E. can be a huge step towards raising awareness about the program as a whole.
"I think [this experience] is important because so many people [use words] as an insult without a thought, and in many schools special education is overlooked and seen as unimportant," Park said. "So to know that our school does this program is very heartwarming and I think that it can raise awareness and help us realize that these students aren't so different from us at all."
Despite not even being in the class for a whole year, the student helpers believe that they have already learned new things from their experiences.
"I've learned that helping some people can be extremely difficult, but most times everyone gets along very well," McCabe said. "But in every case, the students are always sweethearts."
Even though Park has done something like this before, she has still gained something from this experience.
"Something that I've learned from P.E. is how a simple smile or conversation can make anyone's day," Park said. "We shouldn't be taking anything for granted and appreciate life as it is."