Who deserves a voice?
Cy Woods senior creates app for his sister
More stories from Eshal Warsi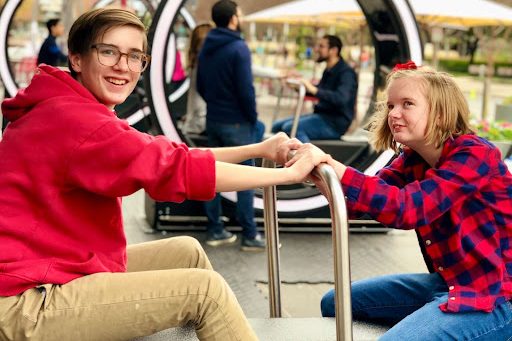 As soon as children begin to string together sentences, every mother longs to hear three words:
"I Love You." 
Caitlin Calder does too,
But she may never be able to hear them. 
Caitlin's daughter, Della Calder, was diagnosed with a rare genetic disease called Bainbridge-Ropers Syndrome. Della is now a freshman at Cypress Woods High School but is still unable to speak. 
Caitlin and Chad Calder moved from California to Texas to provide treatment for their daughter at Texas Children's Hospital. Researchers pinpointed the gene responsible: ASXL3.  However, the limited research meant there was no real cure for Della's condition. 
"I thought a lot about her in high school," Caitlin said. "She's gonna play softball and she's gonna be part of the drama club or whatever it was that she wanted to do, and to lose that was really hard."
In the beginning, treatments were very expensive. Therapy and MRI costs became backbreaking alongside typical expenses for young children such as diapers and prescription medicines. However, their acceptance into a research program helped subsidize many costs. 
Unfortunately, many Americans are not so lucky. Long waiting lists to qualify kids with disabilities for adequate medical care can be fatal. 
"Children pass away while waiting to get on that list," Caitlin said. "It's not a good situation for any family to be in."
To help Della communicate, Caitlin and Chad Calder bought her an iPad with the help of some family members. But it was a steep learning curve for Della who wasn't accustomed to communicating via an electronic device.
"I thought it was gonna be like learning language and it totally wasn't," Caitlin said. "I have this picture of her smashed iPad because she threw it out of frustration."
Caitlin and Chad tried to shield Della's brother, Archer Calder, from the financial realities of the diagnosis. When Archer found out that Della's augmentative and alternative communication (AAC) apps cost hundreds of dollars, he wanted to do something about it. 
"He thought it was a good idea to make a free app because he knows that his parents have spent a lot of money on the communication apps that are already out," Ethan Morales, Archer's friend, said. 
Archer, who is a senior at Cy Woods, designed an app called Freespeech to help non-verbal individuals communicate with no hidden costs or strings attached. In the app, blocks with corresponding images can be dragged to create a sentence. A text-to-speech option helps convey what the user wants to say. 
"The software itself is 100% free," Archer said. "I want it to be really easily customizable, not having to worry about really complex menus."
When Archer posted about his app on TikTok, it went viral. Many relatives of non-verbal individuals reached out to Archer to thank him for the accessibility of his app. 
"We don't necessarily think about all the people who might be walking in our shoes," Caitlin said. "So, to see other parents, family members, siblings saying 'Wow, I really wish I could do this for my sibling' it was really amazing."
The entire app was developed with Della in mind. It includes a locking feature mechanism because of Della's tendency to delete apps as a way to prank her family. 
"It was great to see him excited about something, and it also gave him a way to connect with his sister," Caitlin said. 
When Archer was still in the early stages of programming, he sought help from more experienced developers. He posted his project to GitHub, an open-source programming platform meant to connect creators all over the world. 
"My project was actually number one trending on GitHub for a day when people were starting to collaborate on it because they really liked the idea," Archer said.
The positive reaction was welcomed by Archer. However, the requests, comments and additions on GitHub were overwhelming for him.
"It was definitely really busy but I would do it over again," Archer said. "I think it was awesome; I mean even if the app could have helped one person I would have done that all over again."
The app is completely decentralized because of Archer's limited resources relative to corporate behemoths. Although Freespeech is being used by some people, Archer believes that the app is important for another reason: inspiring others. 
"A lot of people have come to me talking about how they were inspired to use their ability to program to do something beneficial," Archer said.
Although Freespeech is not revolutionizing the AAC industry, it has helped Archer understand what the market is lacking. 
"I have an idea for another AAC app that's getting worked on that can be built on a more solid foundation," Archer said. 
Disabled individuals face exorbitant costs in order to express themselves. But that doesn't have to be the case. 
"I think that we need more examples of people delegating huge chunks of time, energy and effort into free and open-source projects that help people," Archer said. "Rather than just letting that work be done by giant for-profit companies that want to take people's money.
Leave a Comment