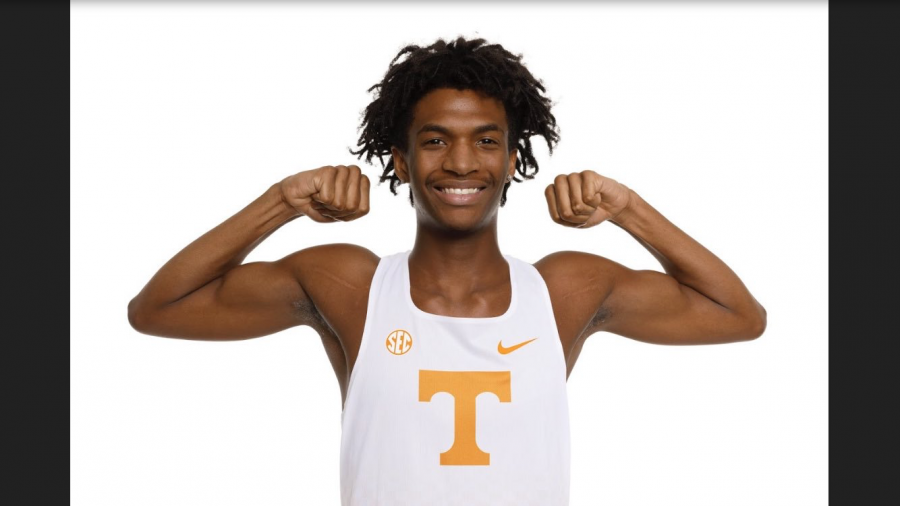 Photo Provided by: Sebastian Cooper
Running to Rocky Top
Sebastian Cooper's Trek to Tennessee
March 6, 2019
This upcoming summer, Sebastian Cooper, a senior track runner, will be heading to the University of Tennessee to pursue his dream of running college track. While it hasn't been easy for Cooper to get where he is, he is beyond grateful that he will be fulfilling his middle school dream.
Cooper started running track at the young age of eight years old; since then, he has some really high highs and some really low lows. Fast forward to his freshman year in high school, Cooper suffered an injury that held him back for a great amount of time.
"I had a major injury when I pulled my hamstring; it set me back by not allowing me to finish my freshman season," Cooper said. "The injury carried over into my sophomore year and even still affected me in my junior year."
While this injury and other personal matters put a damper on his track abilities, Cooper was more motivated than ever to get back out of the track and get back to his normal self.
"It took me a lot of work and sacrifice to get back to where I was," Cooper said. "I had to change my lifestyle by sacrificing my free time and work harder than I ever had."
When junior year season came around, it was safe to say that Cooper was back, and he was ready to grind in hopes of making a name for himself. Cooper qualified for Junior Olympics this past summer, and that sealed the deal for him. Cooper placed fourth in both the 400 and the 4×4.
The offers started rolling in for this track star, and his dream was about to come true.
"When I first started getting offers, it was a moment of relief for my family and myself, but it also felt unreal at the same time because I never thought I would be good enough to become a D1 athlete," Cooper said.
When it came time to decide, Cooper was able to narrow it down to his top three schools, which were the University of Iowa, the University of South Carolina, and, of course, the University of Tennessee.
While the choice was not easy for Cooper, he made the decision to verbally commit to Tennessee on November 6, and he then officially signed to be a Vol for life on November 13.
"I chose Tennessee because the coaches and athletes treated me like family, and it was a bond built deeper than just track," Cooper said.
While Cooper is taking his track talents to Tennessee, he is also excited to further his education by majoring in kinesiology.
"[Tennessee is] also really making an academic push, which is important to me, while still maintaining good athletics," Cooper said.
At Tennessee, Cooper will be running the 400 meter run for Volunteers. While most athletes would say that the 400 is the toughest race to run, Cooper won't deny that statement; however, he purely loves the feeling he gets when he runs it.
"My least favorite part of the 400 would be when I feel like I am dying at the end," Cooper said. "However, I love the thrill of the race that I get towards the beginning."
While the days are getting closer for Cooper to head over to the Rocky Top, it's safe to say that the University of Tennessee will be getting a runner who will work hard and a person who will never quit until he is satisfied.