Student of the Week: Caleb Garza
student sends project to the stars
February 2, 2017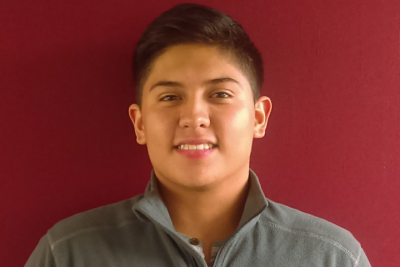 As a part of the Cy Woods Engineering Program, students are working on a NASA project in hope of having their prototype sent to space. Caleb Garza is part of this team; of course, he is not the only student working on this project.
"I'm in charge of the team," Garza said. "Everyone has their roles. For instance, one of my teammates [had to sew one of the] leather parts with an industrial sewing machine. Another friend of mine, Josh Hardy, was the model for the harness at NASA."
Garza was put onto this project after learning in the engineering course.
"I've been in the engineering program since my freshmen year," Garza said. " The third year is when we start working on NASA projects. Last year they made a galley table which is on the ISS right now and it's where they eat dinner. It folds out and they hook themselves in so they don't float away. That table was five years in the making."
With the success of last year's crew, Garza's team has been fervently working to continue the legacy.
"We already presented our prototype to NASA," Garza said. "My team and I have designed an exercise harness that will allow astronauts to do lunges or any kind of lower back exercise in space."
Garza was given directions and limitations by the NASA program, but the rest was left for the engineering students to plan out.
"
We have the best design and the best harness. "
— Caleb Garza
"The only requirement we have to follow is it had to have a single point that it had to attach to on the floor," Garza said. "From there you could make it whatever you want."
The designs of the harness came completely from Garza's team.
"We used a weightlifting belt and shoulder pads with some straps that connected the mechanism and pulls down in the middle," Garza said. "Up in space, their weight wasn't being compressed the right way with the machine. It needs to compress the spine and put weight on the hips. We had to get it back to a compound movement instead of a single motion."
The harness is being entered into a competition with other projects that have a chance of being sent into space.
"We should know by the end of the year [whether we win]," Garza said. "We could pick from about eighteen different projects and from there we have to compete against the other schools. They are only picking a few projects, possibly only one. It's very competitive."