Celebrating Two Cultures
Combining American and Mexican Holidays
November 2, 2016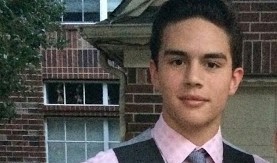 Hannah Nicolaisen
This past week, most high school students have had Halloween costumes and candy on their mind, but some students have also been celebrating their loved ones through a Mexican holiday known as the Day of the Dead, or Día de los Muertos. Senior Yussef Nuñez moved to Cypress three years ago from Mexico City, but has been combining elements of both Mexican and American culture his entire life.
"We do celebrate Halloween in Mexico, but it's an American tradition, so we celebrate just because of globalization," Nuñez said. "One of my favorite memories is setting up an altar with my grandparents and eating Halloween candy."
While Halloween in America is a tradition for ghouls, ghosts, and goblins, the Day of the Dead is a holiday to remember those who have passed away and to celebrate their lives. Día de los Muertos is a two-day celebration, and each day is used to celebrate different people.
"November 1st is the day of the dead for elderly people, and November 2nd is for children," Nuñez said. "So let's say I have a friend who has a brother who has died, he would celebrate him on the second day."
In Mexico, Nuñez set up altars with his family on November first to remember his great grandmother and great grandfather.
"The altars are used to remember loved ones, and to feel that they are a part of our lives still even though they are dead," Nuñez said. "We put stuff they like on the altar because they come back from death on that day to enjoy it. My great grandmother used to like cigarettes, so we put the kind of cigarettes she liked on the altar. It's just things they used to like while living so they can come back to earth for one night and enjoy them."
There are also huge celebrations in the city, such as dances and parades.
"I actually have not been to the parade because there are a lot of people and it gets really crowded, but this year they used all of the Day of the Dead things they used in the new James Bond movie 'Spectre' for the parade," Nuñez commented.
Similar to the use of Halloween candy in America, there are traditional foods made for this holiday.
"We eat Pan de Muertos or bread of the dead," Nuñez said. "It's a round, sweet bread, and it's very good."
No matter where he is, Nuñez will always remember and celebrate the Mexican and American traditions that have become a part of who he is.
"After three years of living here in America, it's like I live between both of the worlds. I think it's kind of cool to have both cultures together since both holidays are in the same week."