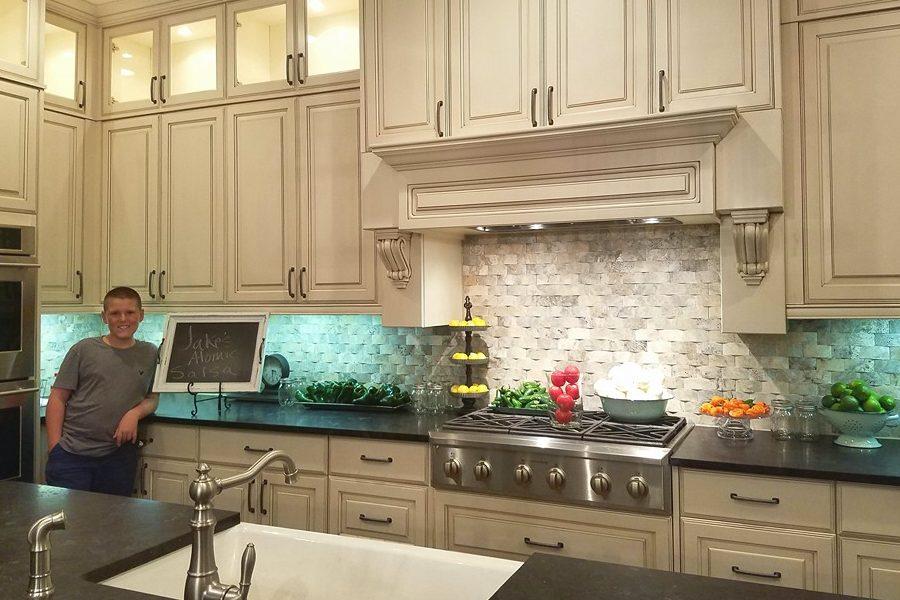 Serving Out Salsa
salyards middle school student blows up with salsa sales
When a person thinks of the word "entrepreneur" they would most likely not think of a 12 year old boy in middle school. However for seventh grader Jake Johnson, this is exactly the case.  Johnson is the 'Director of Salsa Operations' for his business, "Jake's Atomic Salsa". What started as a small hobby turned into a huge operation which includes hundreds of customers from around the globe.
"When I was in the fifth grade, some of the people at my table tried [my salsa]  and they thought it was really good," Johnson said. "So I thought that I would start selling it to my teachers, but I never expected it to get so popular."
His customers grew from the teachers at his school, to local people and then to soldiers stationed in Afghanistan and Corpus Christi.
"It used to be we would make a case of 12 [jars of salsa] and he would sell that over a week or two to people that he knew," Johnson's mother, Kari Schriewer, said. "Then when he went on the news it just blew up. Now we have a couple hundred orders."
Johnson has been on multiple news channels including ABC and Channel Two News, and is scheduled for an interview on FOX 26. For Johnson all of this recognition is a bit overwhelming.
"It's definitely a lot," he said. "With football and schoolwork and then fulfilling orders, it can be a little difficult."
With his new busy schedule, Johnson is required to make his salsa everyday instead of every week.
"I used to just make salsa every Saturday with my family," Johnson said. "I remember when we made what we thought was a big batch, which was about six cases. But now that's nothing compared to what we have right now."
He is getting about five orders everyday, Johnson made it clear that he could not have gotten this far without the help of his family.
"This is a family recipe and we produce it as a family," Schriewer said. "His little brothers even help out by putting the labels on the jars. We have a lot of quality family time doing this, and I think that says a lot about his personality."
Schriewer could not be more proud of Johnson's ability to be independent, yet still spend time with his family.
"I know that there are a lot of teenagers out there that don't really have the drive or desire to do more," she said. "Not many of them are thinking about how they can pay for their own college. But the thing that makes me most proud of him is that he genuinely loves spending time with his family, and has stayed humble through all of the attention he's been getting."
Johnson earns over $8000 in sales, in which a portion of it goes in his savings account that will eventually go towards his college.
"A&M has sent me three packages already," Johnson said. "When the colleges reach out to me it really inspires me to keep pushing my business to the next level."
However college is not Johnson's only plan for the future.
"I really want to go on Shark Tank," Johnson said. "We've been through a lot of the application process to get on the show, and it would really be a big help [to get on the show]."
Johnson's only closing statement was:
"Please help me get onto Shark Tank!"