A Night at the Talent Show
Spotlight on Joanna Ross, and her cello cover of "Breezeblocks"
September 9, 2016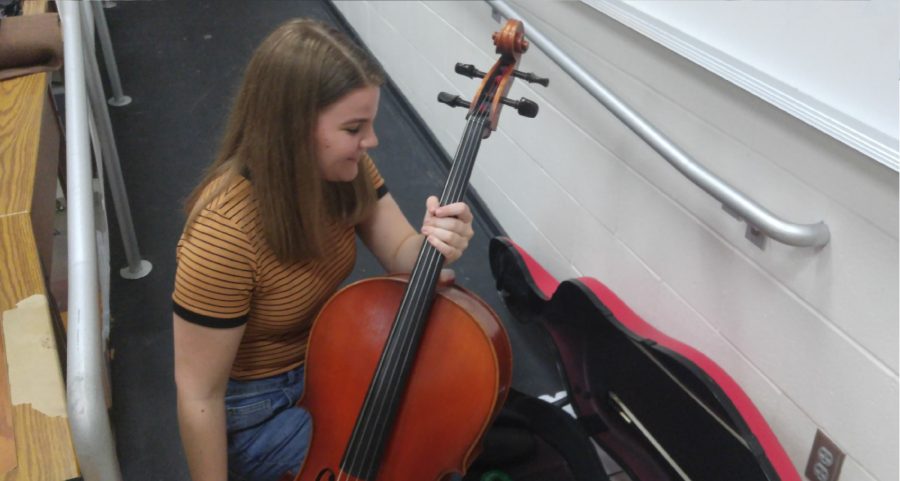 School talent shows are always quite interesting. You have the singing acts, the piano pieces, and the oddity acts. As we just had our own talent show this Thursday, this all came to light, and it all culminated with the act of seniors Shelby Mathews (singing) and Joanna Ross (on cello). They performed the song Breezeblocks, by Alt-J.
"I like to make things original when I do covers," Joanna said. "So it is not just exactly the same as the original song, then I mean there's not really a point in covering it".
"
I like to make things original when I do covers"
— Joanna Ross
Joanna has done several talent show performances prior to her stellar one this past Thursday. Her sophomore year, she did a skit with her lifelong friend Shelby Mathews, who also performed with her at this year's talent show. She also did another performance that show on Cello, as she did another duet with Lauren Crandon, singing the song "Nightingale" by Demi Lovato. Last year, she also performed the song "Collapsed" by Aly and AJ.
Some might think that preparing for something like this would take hours, and even days of total preparation, but as Joanna states, it doesn't take that long to prepare, if you know what you are doing.
"To be honest, we probably worked on it for about an hour" Ross said. "We learned the basics of it in about 20 minutes, and then we put it together and worked on it for a half an hour"
With the skill to put on something this amazing in such little time, Joanna also aspires to take her musical talent with her in life, and turn it into a career.
"I actually want to be a musical education major," Ross said. "So this is kind of a big part of my life. I teach private cello lessons to middle schoolers right now, and when I grow up I want to be an orchestra teacher."
Joanna and Shelby's friendship, and more specifically their performances of duets together, goes all the way back to the fourth grade.
"We literally started playing songs together in the fourth grade" Ross said. "When I took up guitar we would just make up songs, and learn them. We had bands throughout the years, that were usually really bad, but now I think we have reached a pretty decent level."
The talent show is a place to express yourself, and emulate a sense of originality, and Joanna Ross and Shelby Mathews did a spot-on job of achieving this.