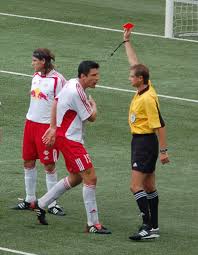 When Should Red Cards Be Used?
A guide to when the dreaded punishment should be used
January 16, 2020
In soccer, a red card is used when a player commits a foul that is deemed "unsportsmanlike" or "too dangerous" to another player. Most red card fouls are a result of dirty tackles or violent play. In fact, some of the most horrific injuries in soccer history have resulted in red cards. A player can also receive a red card if they have already received two yellow cards during a game, which is given for less heinous fouls. Often times, players, coaches and fans speculate if red cards are necessary or even deserved. So, when should red cards be used?
On Nov. 4, 2019, Everton central midfielder Andre Gomes suffered a gruesome injury where he fractured his right ankle. Tottenham forward Heung-Min Son was responsible, as he tackled him below the knee. He received a straight red card for that incident. Although his red card was finally rescinded, there was a lot of debate as to if he deserved a red card. Some people said that he not only deserved the red card, but should be suspended for a long time. Others said that Son's tackle was routine, and that other players have gotten away with much worse. Nonetheless, this sparked up a debate of if and when red cards should be issued. 
Obviously violent hits along with a lack of respect towards players and the game should result in a red card, but for hits and minor offences that are justified, such as over-the-top celebration or using excessive force while playing for the ball, should be given a yellow card at most. In fact, most fouls go without punishment.
However, there is a time when red cards are necessary, like when a player does something unjust or violent to other players. For example, Greek soccer player Giorgos Katidis got a red card for celebrating his goal with a Nazi salute. He also got a lifetime ban from the Greek National Soccer Team for it.
Another time a red card should be given is when a player deliberately cheats in order to win. This is what Uruguayan player Luis Suarez did in the 2010 FIFA World Cup quarterfinal match between Uruguay and Ghana. In extra time, Suarez blocked a shot to deny a goal. He was given a red card and sent off. Ghana went on to lose the game 4-2 on penalties.
There are times when red cards should be used, like when doing offensive gestures and cheating, but there are also times when yellow cards, or no punishment, be given, like common tackles and roughness. These reasons should settle the argument as to if and when the dreaded red card be used.  
When Should Red Cards Be Used?